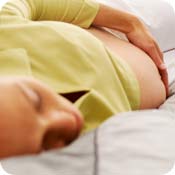 A recent study conducted by the UCSF School of Nursing found that inadequate sleep during late pregnancy (this study took place in the ninth month) influences labor length and delivery type. Compared to women who slept on average seven or more hours each night, researchers found that:
women who averaged less than six hours of sleep per night had significantly longer labors and were 4.5 times more likely to have cesarean deliveries, and
women who averaged between six and seven hours of sleep per night were 3.7 times more likely to have a cesarean delivery.
BabyFit Tip: While this is the first study of its kind, making it hard to apply these findings to all women, it's no secret that both sleep problems and chronic fatigue have adverse effects on your physical and psychological well-being. If you have trouble meeting your sleep requirements, try:
Increasing the amount of time you spend in bed. Going to bed earlier, or merely relaxing in bed (even if you don't feel tired) will help you fall asleep sooner.
Be sure to discuss your sleeping patterns with your healthcare provider. "Similar to advice that women should 'eat for two' when pregnant, healthcare providers should consider recommending that women also sleep for two," says study author Kathryn Lee, RN, PhD, FAAN, professor and the James and Marjorie Livingston Chair in the UCSF School of Nursing.