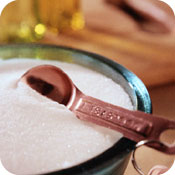 Deciphering Labels
It can be confusing to try to find out how much added sugar a food contains. The sugar listing on a Nutrition Facts label lumps all sugars together, including naturally-occurring milk and fruit sugars, which can be deceiving. This explains why, according to the label, one cup of milk has 11 grams of sugar even though it doesn't contain any sugar "added" to it.

To determine how much sugar has been added to a food product, follow these two tips:
Read the ingredients list. Learn to identify terms that mean added sugars, including sugar, white sugar, brown sugar, confectioner's sugar, corn syrup, dextrin, honey, invert sugar, maple syrup, raw sugar, beet sugar, cane sugar, corn sweeteners, evaporated cane juice, high fructose corn syrup, malt, molasses, and turbinado sugar.
Refer to the chart below for approximate amounts of hidden sugar in foods.
Hidden Sugars in Foods
Food

Serving Size

Added Sugar

Cakes and Cookies

Angel food cake

4 oz piece

7 tsp

Banana Cake

4 oz piece

2 tsp

Brownie, no icing

1 oz piece

4 tsp

Cheesecake

4 oz piece

2 tsp

Chocolate cake, iced

4 oz piece

10 tsp

Chocolate chip cookie

1 cookie

2 tsp

Coffee cake

4 oz piece

5 tsp

Cupcake, iced

4 oz piece

6 tsp

Fig Newtons

1 cookie

5 tsp

Gingersnaps

1 cookie

3 tsp

Glazed doughnut

1 doughnut

6 tsp

Oatmeal cookie

1 cookie

2 tsp

Candies

Chocolate candy bar

1 bar

7 tsp

Chocolate mint

1 piece

2 tsp

Fudge

1 oz piece

5 tsp

Hard candy

2 oz

10 tsp

Lifesavers

3 pieces

1 tsp

Peanut brittle

1 oz piece

4 tsp

Dairy Products

Chocolate milk

1 cup

5 tsp

Eggnog

1 cup

5 tsp

Hot cocoa

1 cup

5 tsp

Ice cream

4 oz

4 tsp

Ice cream soda

1 regular

5 tsp

Ice cream sundae

1 regular

7 tsp

Milkshake

10 oz

5 tsp

Sherbet

1/2 cup

6 tsp

Beverages

Carbonated soda

12 oz

8-10 tsp

Gatorade

12 ox

5

Jams, Icings & Sauces

Apple Butter

1 tbsp

1 tsp

Chocolate icing

1 oz

5 tsp

Chocolate sauce

1 tbsp

3-4 tsp

Jelly & Jam

1 tbsp

4-6 tsp

White icing

1 oz

5 tsp

Desserts

Apple cobbler

1/2 cup

3 tsp

Apple pie

1/6 of pie

7 tsp

Berry pie

1/6 of pie

10 tsp

Cherry pie

1/6 of pie

10 tsp

Chocolate pudding

1/2 cup

4 tsp

Cream pie

1/6 of pie

4-5 tsp

Gelatin dessert

1/2 cup

4-5 tsp

Peach pie

1/6 of pie

7 tsp

Pumpkin pie

1/6 of pie

5 tsp

Tapioca pudding

1/2 cup

3 tsp

Vanilla pudding

1/2 cup

3 tsp