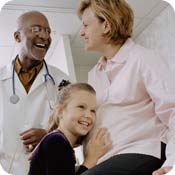 In a recent article published in Obstetrics & Gynecology, researchers at the University of Rochester Medical Center in New York dispelled the idea that delivering a baby vaginally is associated with urinary incontinence later in life. In fact, their results show that incontinence is more strongly associated with family history than type of delivery.

Vaginal delivery has long been considered a major risk factor for incontinence, which affects approximately 30-50% of women. However, this study says that the practice of scheduling Cesarean deliveries (with the purpose of preventing incontinence later in life) is a practice that has not been proven effective.

The doctors studied pairs of biological sisters. Of each pair, one had delivered at least one child, and the other had not delivered a child at all. Sixty-three percent of the pairs shared incontinence status (either both were incontinent or both were continent), and there was no statistical difference in rates of incontinence between the women who had given birth and those who hadn't.

They found that actual risk factors for incontinence tend to run in families, and include body mass index (BMI), hypertension (high blood pressure), and pelvic floor integrity.

BabyFit Tip: While you can't change your genes, you can strengthen the muscles of your pelvic floor, helping prevent incontinence. This is where those infamous Kegels come in! All women, regardless of pregnancy status, should do Kegels every day. Here's how.