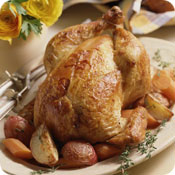 Another test is to press the fleshy part of the thigh with protected fingers. If the meat feels soft, or if the leg moves up and down easily and the hip joint gives readily or breaks, the turkey is done.

Doneness can also be determined by inserting a long-tined fork into the thickest area of the inner thigh. If the juices run clear-not pink-the turkey is done.
What should I do with the leftovers?
Once the turkey is removed from the oven, you have approximately 2 hours to serve it, eat it, and get the leftovers refrigerated or frozen. Leftovers can keep in the refrigerator for about 3-4 days, but use stuffing and gravy within 1-2 days.