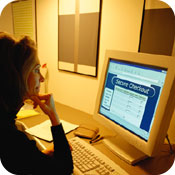 Welcome to BabyFit. Our community is here to help support and motivate you to have the healthiest pregnancy and motherhood possible. The community is made of up three main components: Message Boards, MommyTeams and BabyPages. Message Boards are organized into forums and any BabyFit member is welcome to view and/or respond to any other member's posts. BabyFit Experts monitor these boards and respond to nutrition and fitness questions.

MommyTeams are organized and maintained by members and are based on interests and/or goals.

BabyPages are members personal pages and blogs.

Are you not sure where to start? Visit the different forums and MommyTeams. You will quickly find that BabyFit is filled with intelligent mother's who are eager to share their experiences. We've listed some dos and don'ts below to help you get started:

Dos
Participate. If you are not ready to participate in discussions, start by exploring the message boards and MommyTeams. You'll find lots of useful information.


Reach out. Introduce yourself in the "Introduce Yourself" forum. You'll soon have a warm welcome from the community.


Tell us who you are. Create a member profile and include a picture that represents you. This will help people to get to know you.


Search before you ask. Use the Message Board "Search" function, at the top of the Message Board screen, to look for answers to common questions, such as, "What should I bring to the hospital?" Check the dates of the threads before you reply; if the most recent post on the thread is a few weeks old, start a new thread for your question.


Be specific. Make your thread topic specific. Rather than "I need advice," it's more helpful for other members if the thread title relates to your question or comment, such as "Any advice for sleeping?" Note that thread titles cannot be changed once posted. If your topic is controversial consider putting "Hot Topic" or "Debate" in the title.


Think before you type. Remember that social media on the internet is public and permanent. Be sure what you are writing is something you want your children to see in a few years. Be sure it reflects your family values and is at the same standard you would expect from them when they participate in social media.


Be honest. Honesty is always the best policy and that includes on message boards. Don't use picture profiles or user names to send hidden messages. If you have something to say and it is something you would say face-to-face, be honest and respectfully share your thoughts, ideas or suggestions.


Be discreet. Send a personal message if the subject you're discussing is sensitive.


Ask questions. The BabyFit community and team are here to help.


Remember the Golden Rule: Treat other people the way you would like to be treated. If you wouldn't like to be talked about related to your parenting or personal life, it might be best to avoid participating in such activity related to others.


Keep it clean. Please refrain from profanity


Make it personal. Remember that life experiences influence how we see or respond to questions. Sharing the experiences that have shaped your point of view can help build genuine and healthy dialogue. Written communication is received differently than verbal communication. Please be very mindful about how your message comes across to readers.


Find a team or start one! If you have a specific interest or goal join an existing MommyTeam or if you can't find one consider creating a new team for members to join. Use the MommyTeam Tips for more information.


Learn the lingo. Use the Guide to BabyFit Message Board Codes to understand abbreviations.


Have fun! Pregnancy and parenting is a time full of personal victories. The community is a place to share wonderful and inspiring insight from your life. Your stories will encourage others and bring great joy. You never know how your story will make a difference to a fellow member.

Don'ts

Be afraid to ask for help.
The BabyFit Team can answer questions, and other members are always willing to help too.


Ask technical questions all over the site. Use the "Technical Support" forum to ask questions about the site and its features. General pregnancy questions can be asked in "BabyFit Cafe" or within your "Baby Due Date" MommyTeam.


Use all caps, even if it is easier for you to read. It makes you seem like you're yelling at someone.


Violate privacy. Do not repost someone else's messages, public or private, to other people without asking permission.


Say anything online that you wouldn't feel comfortable saying to someone in person. Post as if you were saying it directly to the person. If you wouldn't say it directly to them face-to-face, perhaps you would want to think twice about posting it in a post reply, blog comment or Mommy Mail.


Post unrelated questions in a thread. Post your questions in the most fitting forum or MommyTeam. If you're unsure, check the other posts before you posts to make sure it is the best place to post.
A Quick Reminder About Online Community Etiquette

Online communities are just like real-world communities in many ways. Many of you will have strong opinions on pregnancy and parenting that may vary. Pregnancy can be a time of heightened sensitivity and differing opinions can be taken very personally. This may seem like common sense, but hopefully it is a good reminder to everyone.

We welcome all points of view on a given topic as long as it is stated respectfully. The best way to do this is to watch the tone of the message. Experts say that the tone of the message is more important that what is said.

When giving advice a positive tone will be much more effective. If someone happens to make a mistake or use a negative tone to you, you can prevent the negative cycle by choosing to respond in a positive tone or don't respond at all. If you are concerned with the content or tone of a post you can always click the "Report Inappropriate Post" button and a BabyFit Resident Expert will review. A positive community is a top priority for BabyFit. Together we can keep the greater good of the community a priority.

Lastly, BabyFit.com takes the safety of its members VERY SERIOUSLY. Please keep in mind that other internet users can see your posts and photos. Also, be very cautious about giving out personal contact information on message boards, MommyTeam, or MommyMail to other members. For more information, read our Internet Safety Guide.

If you have any questions or if there is anything we can do to maximize your on-line experience let us know. We are glad you've have joined our community and hope to hear from you on the Message Boards soon.