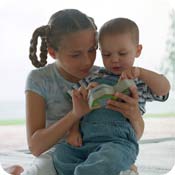 Today so many people are overweight or obese that it is sometimes viewed as the norm. This can make it difficult for parents to recognize if their child has a weight problem. A recent study surveying the parents of almost 300 children found:
Only 25% of the parents with an overweight child recognized that the child had a weight problem.
When the child was obese, one-third of the mothers and one-half of fathers indicated that the child's weight was "about right".
Parents who were overweight themselves were no better or worse at identifying a weight problem in their child.
BabyFit Tip: At well-child check ups, discuss weight issues with your child's pediatrician. Seek out ways to involve the entire family in healthy eating habits and fitness routines. Check out these websites for ideas: International Food Information Council, American Heart Association, and American Academy of Pediatrics.