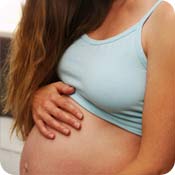 In March 2003, three weeks after my wedding, I lost all feeling in my legs. At first I thought I had pinched a nerve while I was working out, but it didn't go away and it kept getting worse. Soon I was numb from the waist down. I was eventually taken to the hospital where, after more than a week of tests, I was diagnosed with multiple sclerosis. I was familiar with the disease and how devastating it can be because my mother had had the disease.

I sought out a neurologist and underwent several months of trial and error with various medications, all the while putting my husband's and my desire to get pregnant on the back burner. We weren't sure if that would ever be in the cards for us. Stress is also a major factor in MS, so I had to learn how to balance everything in my life, from my health to my new marriage, my career, and my role as caretaker for my parents (my mom was bedridden with MS and my dad is blind).

After much trial and error, I managed to get my health under complete control, to the point that I lost all of the weight (50 pounds) that I'd put on as a result of the mega-doses of steroids. I managed my health with diet and vitamins, along with the medication prescribed to me, and stabilized my disease enough that after one year with no incidents, my husband and I were not only given the OK to start having children, but I was diagnosed as being in remission with my MS.

In the interim, I lost my mother to her battle with MS, but I now look forward to the son I will give birth to in March. All in all, I have undergone a complete lifestyle change in these past two years, from diet to exercise routine, and have been stretched to the limits physically, emotionally, and spiritually. But I feel thankful to think that I am able to have a little one of my own.

Do you have a Success Story you'd like us to publish on BabyFit? Send your story, along with a photo of you and your baby, to stepfanie@babyfit.com. Submissions should be 500-1,500 words and will be edited for clarity, grammar and tone.