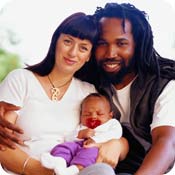 If possible, call a lactation consultant at least 2 weeks before returning to work and discuss your individual working situation. Different schedules work better for different mothers and babies. Here is a schedule that many women follow:
Nurse early in the morning, upon waking.
Nurse just before leaving for work.
Express breast milk 2 or 3 times during the workday. Store the milk in the refrigerator to feed to your baby the next day.
Have your caregiver give your baby the stored breast milk during the day.
Nurse right away upon arriving to pick up the baby, or as soon as you get home from work.
Nurse as often as possible during the evening.
Caring for Yourself:
Remember to eat well, rest, and take care of yourself. Drink lots of water and continue to take your prenatal supplements or a multivitamin and mineral supplement. Breastfeeding while working outside the home can be challenging, but many mothers say it is definitely worth the extra effort. The relaxing time you spend nursing your baby can help you unwind after a hectic day and can reunite you with your baby.