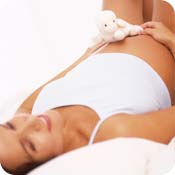 What's interesting is that the physical effects of relaxation or invigoration may also be learned. In fact, these same "chemicals of well-being" are also released when talking to a lover or listening to music. That's where the idea of personal aromatherapy comes in.

Personal aromatherapy is a smell that's closely related to an activity or interest that you're highly invested in or really enjoy doing. The more "active" this activity is, the theory goes, the more its related smell will boost your energy. The smell and its effect on you are very personal things. If you love working with wood and you use a lot of energy doing it, chances are the smell of sawdust will get you going. Same goes for someone who loves cooking upon entering the spice aisle in the store. When faced with these meaningful smells, you can't help but feel a little rush of energy and pleasant thought.

So what does this mean for pregnancy? Just this: by keeping these personal aromatherapy scents around, you will feel more energized and more positive throughout your term.

Of course, these are often smells you don't want around all the time. (Who wants to live in a workshop?) In fact, they may actually be smells you normally find unpleasant in daily life. But it's the emotional reminder that's important, not the smell itself. What activity did you really get energized for prior to conception? Does it have a distinct smell that goes along with it? If you can find a way to give yourself a "shot" when you need it, you may have found the secret to staying charged up and motivated every day.