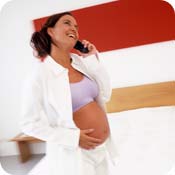 The Second Trimester: Nesting

Getting into months four, five and six, you'll probably find that your energy has come back and you feel like cleaning, organizing and doing house projects. This is called "nesting" and it's quite natural. I suspect it's Mother Nature's way of making sure you have room in your life for your new addition. It makes sense to have your home as organized as possible in advance, so the added chaos that a baby brings isn't so overwhelming. Bottom line is that the more you can de-clutter and organize your home in advance, the happier you will be once the baby arrives.

Month Four

Begin organizing your baby registry. Your friends and family will want to buy things for you and a registry is the best way to ensure you get everything you need with a minimum of duplicated items. Bring an experienced mom along with you for your first trip to the store to register. Your helper will keep you organized and focused because she'll be able to guide you as to what you absolutely need, versus what things you can forgo. To avoid running back to the store several times to update your registry, just keep a running list of additional items that you want to add, as you think of them. Then, just make one or two trips back to the store to add those items to your registry list.

Where will baby sleep once he arrives? Do you have an extra room that you aren't using? Is there an office or study that you're willing to convert to a nursery? Or perhaps a guest room that doesn't get much use? These are all good options for bedrooms, and the fourth month is a good time to choose a sleeping space for baby.

Month Five

Speaking of sleeping, if you are buying new baby furniture, month No. 5 is the time to do it. Some stores require a minimum of 12 weeks turnaround time, so don't wait until your sixth month to order your furniture or you risk having the baby before the furniture arrives!

This is also a good time to begin any other household projects that you want to take care of, because you'll have more energy now than during your first trimester, but you're still small enough that you're comfortable and mobile. Consider using this time to begin making the baby's room ready for him. If you choose not to know the baby's gender in advance, pick a gender-neutral paint color such as yellow, sage green, or even a light taupe to use as your base wall color. Any of these colors will adapt well for either a boy or a girl, and you can add other gender-neutral theme items such as border, wall hangings, and other accessories.

Continued ›