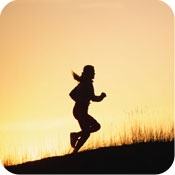 In September 2010, after six months of trying, my husband and I discovered that we were finally pregnant. Immediately, I made a pact with myself to have the healthiest pregnancy possible. I read every book I could get my hands on, and I found BabyFit.com.

On BabyFit, I found a community of support and amazing resources, which is especially important for mothers like me who don't have anyone nearby. The Food and Fitness Trackers and Message Boards were wonderful tools that became critical to reaching my goals. The women I met have been an ongoing source of inspiration, providing encouraging posts and accountability. I still check in with them to talk about how my exercise and nutrition plans are going. Motherhood is hard and scary, and every woman deserves to feel a sense of belonging like I did through Babyfit.com.

Exercise became a big part of my pregnancy too. I walked, did resistance training and prenatal yoga four days a week. I was happy to gain the healthy amount of weight for my height of 5'5", and in May 2011, I delivered a healthy baby boy via C-Section. I was up and walking the day after my surgery and started running within 10 weeks. I lost 17 pounds within two weeks, but put two pounds back on postpartum. I knew that I needed to make a change and was thrilled to discover BabyFit's sister site SparkPeople.com and some great workout DVDs.

With the help of BabyFit.com and SparkPeople.com, as well as exercise and proper nutrition, I was back to my pre-pregnancy weight within three months. My next milestone was to lose an additional 13 pounds, and high intensity interval training was the perfect fit with my tight schedule as a mom. I now feel like I'm in the best physical shape of my life, which goes a long way to help me get more done during each day.

In addition, running has become a huge passion and I am running stronger and faster. As my son gets older, I am able to keep up physically and mentally. I also feel like I'm setting a great example. I can't wait to teach him everything I have learned about leading an active and healthy lifestyle.

More recently, I have returned to full-time work and life is busier than ever. BabyFit.com and SparkPeople.com are helping me to sustain healthy lifestyle. Scheduling my workouts and cooking healthy food in batches once a week helps me stick to my goals. As you can probably tell, keeping it simple is my secret I love opening the freezer and defrosting a healthy meal. I'm not as tempted to choose less nutritious choices and packing my lunch helps avoid temptation throughout the day.

I have been so inspired by all that I have learned on this journey that I'm thinking of studying to be a personal trainer or a registered dietitian. Thank you so much BabyFit.com and SparkPeople.com. You've truly helped me train for the sport of life!