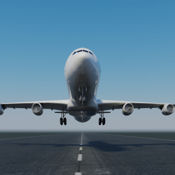 My oldest son's first flight was at 4 months. My youngest son, at not quite 8 months, has four flights under his onesie. We live 1,000 miles away from our parents and extended families. Air travel is a fact of life for our kids. Still, I am a nervous traveler, always half-convinced I'm at the wrong gate, so assumed traveling with babies and children would be misery for us and for the other passengers. It is not. It is traveling, for sure, with all its bad food and close quarters and hurry up-and-wait tedium, but overall, I have been surprised by how helpful everyone is when they see parents--especially a mom alone--trying to haul kids and all their supplies through an airport. Really, our aerial adventures have bolstered my faith in human kindness.

Still, every time we travel I prepare and research and over pack. I hem and haw over the same questions. Here are the answers that have worked best.

Lap babies
Infants up to age 2 can travel as a lap baby, a phrase I find hilarious but a situation that has worked out quite well for me and most of the parents I know. Feeding them during take-off and landing is easy this way, they're contained and entertained on your lap, and often they'll cuddle up and nap.

If you have a hefty or active toddler, you might want to buy the seat anyway. When we traveled with our oldest son at 11 months, he was off the charts for height and weight and our legs felt it by the end of the trip. Long flights--four hours or more--might be easier if they have their own space, too.

Tickets
When choosing flights, remember kids move more slowly than adult travelers and have short attention spans. Layovers are good for breaking up the time sitting still, but now is not the time for tight layovers.

Most companies won't issue a boarding pass electronically to a lap baby, so you do need to register the infant with the check-in desk. Call the airline after you book to double-check their protocol.

If you can pick your seat, window seats are great for older kids or nursing mothers. On some airplanes, lap babies can only sit in certain seats because of oxygen masks. Call the airline. Sitting near the back of the plane near lavatories means you don't have to drag the kids down the aisle if they need to get up and stretch their legs.

Kid IDs
Bring a copy of their birth certificates. Usually, security won't check it for a lap baby, but if the child is near the age cut-off, they might. Security was hit-and-miss in checking the identification of our toddler, who had his own ticket, but it's better safe than sorry.

Car seats
If your infant is flying in his own seat, he needs a car seat. If your 2-year-old finally has his own seat, you have a choice whether or not to bring the car seat. We never have, and that's been great for the short flights (three hours or less) we take. The kiddo had room to stretch out and we didn't have to lug the car seat around. But we had to rent a less-than-great seat for the rental car and by the end of our return flight, the toddler had figured out how to unbuckle himself.

If you bring a car seat, you might want to invest in a Sit-N-Stroll, which turns it into a stroller. Car seats can be gate-checked.

Breast milk or formula
A "reasonable" amount of breast milk, formula, juice and baby food is allowed to be taken through security, according to the Transportation Security Administration. Containers should hold 3.4 ounces (100 milliliters) or less and will be screened separately from your liquids bag.

You need to tell the security guard you have this stuff. I have never had a problem, though the last time we flew, the guard wanted to "test" the baby food. He ran a cotton swab over the lid and declared it fine.

Treat a breast pump like a laptop--out of its bag and through the X-ray machine on its own.

Security
The rules that apply to you apply to the kids, too. Shoes off, stuff on the conveyor. You're going to be slower than those business travelers behind you. Let them go ahead. Use the family lane if there is one.

Babies must be carried through the metal detector. They can't be in a carrier or stroller. If you're picked for a pat-down--and I have been every single time I've traveled with one of my babies, go figure--you just have to shift them from arm to arm.

Older kids have to walk through on their own, but TSA cannot ask you or your child to do anything that would separate you.

Diaper changes
Obviously, avoiding the airplane bathroom is the wisest course of action. Change diapers and have one more potty break for everyone before boarding. Family bathrooms, when they exist, are great.

If you have to change a diaper in-flight--and it isn't a nasty one--you might try to do it on the floor or, if you have a row of seats to yourself or a very kind neighbor, on your lap. Bring plastic bags to contain all the nastiness. But remember: No one else should have to deal with your kids' bodily fluids.

Also, when packing extra diapers, assume the worst. Bring enough for double your travel time, in case of delayed or missed flights.

Infant entertainment
Food and sleep will get you through most of a flight shorter than three hours. They say a bottle or nursing at take-off and landing will prevent ear pain. I've always done that and my kids have never had a problem. As an added bonus, that feeding takes up a lot of time on a short flight and usually knocks them right out.

But here's my worst-case scenario plan: Half a dozen "new" toys in the carry-on. I usually just pull some of the baby's favorites out of the rotation about a week before the trip. That way they're new and yet, oddly familiar and comforting. (I'm such a tricky momma.) Only one toy comes out at a time to create the illusion of a never-ending supply of "new" toys.

When all else fails, pat-a-cake, itsy bitsy spider and peek-a-boo are quiet distractions for everyone.

Toddler entertainment
Get the kid a backpack. Fill the backpack with a coloring book, crayons, paper, small toys (but not ones with even tinier, sure-to-be-lost pieces), snacks and, if one exists, a lovey. Assume child will bore of these toys five minutes into flight. Pack extra special snacks (for us, that's M&Ms) in your carry-on as well as a book and an extra toy. Don't be shocked when your child would rather look out the window or eat the in-flight snack. For ear pain at take-off and landing, suckers seem to work--though, to be honest, my kid is so happy to have the candy, I'm not sure he would notice if his ears were hurting.

Carry-on or diaper bag?
With airlines charging for every little thing these days, it's more important than ever to consolidate. I will always advocate for a combination giant purse/diaper bag. Usually, I also try to pack tightly enough to not have to check luggage, which means I don't have to worry about throwing extra emergency clothes in my purse/diaper bag because I'm already toting those around.

But let's assume you've had to check luggage. Here's the just-in-case list for whatever bag you bring:
IDs for everyone

money/credit cards

tickets/itinerary

diapers (enough for a change every few hours)

wipes (as many as possible for wiping up any and all nastiness)

large plastic bags to contain any nasty messes

a change of clothes (especially important for infants who spit up often and potty-training toddlers)

a receiving blanket (for use as giant burp cloth)

snacks

bottle/baby food/formula

nursing cover (scarves are great and also will cover up the spit up on Momma's shirt)

empty bottle for water past security

book (just in case the kiddo decides to give you a minute to relax - a Momma can hope!)

Traveling with children isn't easy, but you can do it. Safe journeys!