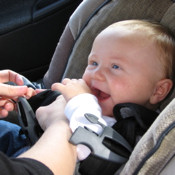 Looking again at my calendar, I wondered how we had managed to schedule such a train wreck of a Saturday. The entire family - Momma, Daddy, toddler and baby - needed to leave the house by 6 a.m. and likely wouldn't return until dinnertime. In between, we would watch Daddy run a 5K, hit up the library, find a place for lunch and see a baseball spring training game.

"We're crazy," I told my husband while packing diaper bags on the eve of our weekend odyssey.

The crazy plan was an accident of geography. The husband booked his 5K, then we both committed to the baseball game with friends, neither of us thinking of the fact that both venues were across town. Making the hour-long roundtrip from our house to the far side of town twice just didn't make sense, so a daytrip it was. I was sure it would be a disaster. The toddler would get tired and cranky. Blow-out diapers and accidental flashings while nursing would embarrass us all. Without naps, we would never survive.

I was wrong. We enjoyed the most fun, relaxing and pleasant day we had had as a foursome, in the four months since the baby's arrival.

Here's why: No distractions. I paid attention to my boys instead of dirty floors and piles of laundry. Television and computer screens couldn't tempt any of us. The husband abandoned his work cell phone on the nightstand. We had no to-do list to cross off and no real agenda. It was lovely.

Since then, I have tried to make weekend daytrips a family tradition. We don't take one every week. The house has to be cleaned sometime. But at least once a month, we spend a day gadding about as a family. The days usually start early and sometimes we're home early enough in the afternoon for a late nap, though we don't follow a clock on trip days. Everyone usually is whooped, which is a perk itself. The boys go to bed early, and the husband and I have time alone. We have stomped waves and dug holes in the sand at the beach. We have strolled along trails. We have taken boat rides.

We don't think about plans too much. The whole point is to reduce stress. But some prior planning is required. Here's how to organize your own family daytrip:

WHAT TO DO
Think cheap and easy. Check your local newspaper, its website or the local government's recreation department for events. Scout out nature trails, pop into children's museums or hit up festivals.


Stop boredom before it starts. Waiting for an event, play I Spy or let the kids run around in a grassy open area. While killing time in the mall, treat a pet store like a mini-zoo.


Be literate. Libraries make great stopping points because they encourage kids to be calm and quiet and give everyone something to read or at least look at while traveling. Make it the main event by hitting up a children's story hour, or use it as a transition between other activities.
WHAT TO EAT
Bring snacks and drinks. Hunger and thirst - for kids or adults - almost always translate to short tempers. Water is easy, good for everyone and no big deal to clean when spills happen. This article has plenty of ideas for healthy eating on the road.


Pack a picnic lunch. Eaten al fresco, even peanut butter and jelly seems special. Other low-maintenance foods: cheese and crackers, fruit, nuts, dried fruits and quick breads packed with fruit or vegetables (think zucchini or banana).


For a treat - or to make life easier on you - stop at a restaurant.


End on a sweet note. Ice cream isn't something we eat every day, which is why it makes our daytrips special.
WHAT TO BRING
Be prepared for whatever the day is bringing. Special things - picnic lunches and swim bags, for example - are packed as needed, but every trip includes two bags: an emergency car pack and my purse.

My purse is huge and doubles as a diaper bag, in which goes:

Two diapers per kid
Wipes
Wallet
Cellphone
Scarf that doubles as a nursing cover.
Two small toys and/or books
Water bottles
Snacks

The car pack is an old diaper bag that is, as the name implies, always in my car. It carries:

Extra diapers
Wipes
Basic first aid, i.e. a couple bandages, children's acetaminophen, teething tablets
Change of clothes per kid and extra shirt for me
Snack bag of cereal, dried fruit, etc
Jarred baby food and spoon
Changing mat
Blanket heavy enough for a playmat, but light enough for a nursing cover
A few small toys
Spare sippy cup

Other handy things that might be in my trunk on a daytrip:

Stroller
Baby carrier
Bouncy ball, frisbee or other sporting gear
Blanket
Like many aspects of motherhood, that first day trip was serendipitous. Whether you head across town to a ball game like we did or across state lines to a national park, don't consider these day trips to be nuisances or disruptions in your schedule. They're memories in the making.

Find more tips for making your family road trip a memorable one.