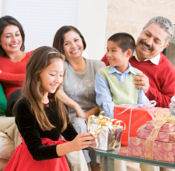 I live in a very small house. My very small house has very little storage.

So, when my son's first Christmas rolled around last year--just weeks before his first birthday--I made a point of letting both sets of grandparents know The Boy didn't need box after box of toys. I knew telling them not to get him anything was futile, so I tried to set limits. Please, I said, don't get him big riding toys or giant activity tables.

A push-and-ride construction truck arrived from my mother. My sister, to whom I had neglected to make my plea, sent a light-up, musical activity table. A tot-sized basketball hoop came from my mother-in-law. A friend bought the matching baseball set.

Trying to control gift-giving during the holiday season is an uphill battle, and one you're not likely to win. Many grandparents, especially those who were strict with their own kids, seem to feel spoiling their grandkids is an earned right--and, in my opinion, a form of hazing their own children. Childless aunts, uncles and friends don't understand, and those with children want to share the cacophony with mountains of noisy plastic paraphernalia.

But losing these battles with relatives doesn't mean you have to lose the war against raising a materialistic child.

Parents' most powerful weapon against materialism anytime, but especially during the holiday gift-giving melee, is themselves, according to child psychology experts, such as Michele Borba, who has written more than 20 books about raising kids. Start with yourself. Shopping should not be quality family time. Limit kids' screen time, and teach kids early about marketing and why we don't just buy things because our favorite character is on them. Even good old "Sesame Street" is chock full of consumerism opportunities these days. Elmo is on everything.

When it comes to the holidays, ask your children to keep their wishlists to minimum. Keep your shopping list short, too, and try to fill it with experiences for your child--not just things. Knowing I had lost the battle over Christmas gifts, and expecting The Boy's grandparents to repeat their performances for his birthday, the husband and I skipped toys and instead bought him swim lessons to celebrate turning a year old.

And don't just give up. If a straight-up request to relatives for few or no gifts doesn't work, try a more subtle approach. Grandparents always want to know what a child wants or needs. Nudge them toward those experience gifts or other things you'd prefer and your kid will enjoy. Try to be flexible. I know my mom likes to give "big" gifts, so I've OK'd a tricycle for The Boy this year. It's not easy on our limited storage space, but it is something he'll enjoy for a long time and something that can be passed down to his little brother. And it means one gift instead of five. Makes Grammy happy, makes the kids happy, makes Momma happy.

Your work won't be for nothing either. Materialistic kids tend to perform less well academically than other children, according to a survey analyzed by Marvin Goldberg, marketing chair of Penn State's Smeal College of Business. Nine-year-olds are just as likely as 14-year-olds to be materialistic, leading Goldberg to conclude marketing efforts to tap into the buying power of ever-younger kids--and their parents--is working. Other researchers at the University of Illinois have linked materialism to self-esteem. They suggest the way to ensure your child has a good sense of self worth is to buy them fewer pricey items.

But more importantly, if you're not worried about gifts, you'll have time to create the real memories that make the holidays special. It's not the presents kids are going to remember. It's the traditions.

My mother and aunts were Black Friday devotees. Every year they attacked the stores on the day after Thanksgiving, mapping their routes ahead of time and battling the crowds for the best sales. Mom would come home with the car's trunk loaded with mysterious bags and boxes, many of which were destined to sit under our cousins' Christmas trees, our own gifts having been secreted away by the aunts. But one year, while the women ate at a restaurant, someone stole the car loaded with all of our Christmases.

That's how I remember my mom referring to it: Someone stole our Christmas.

I can tell you the year Christmas was stolen was sometime in my late childhood, but couldn't give the exact year without checking. Because that Christmas, to me and my sister, was no different than any other. I don't remember their being fewer gifts under the tree, though Mom assures me there were. What I do remember is cutting and decorating our tree, making enough cookies at my aunt's house to fill a whole living room full of card tables and spending Christmas Eve at my grandparents' house filled to bursting with cousins and aunts and uncles.

Mom was wrong. No one stole our Christmas. Cheesy as it sounds, our Christmas couldn't be bought.