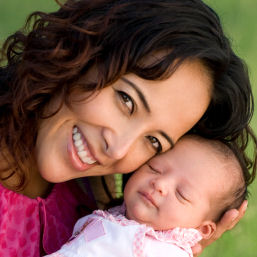 New parents often anticipate the moment they first get to hold their newborn child in their arms. While they love their babies and think they're precious and perfect, they might not be as photogenic, shall we say, in their first few hours and days as parents might expect. Babies are squishy, red and wrinkled when they arrive in this world--and that's completely normal!

Wondering what else to expect when your newborn arrives? Read on to find out all about your newborn baby's unique appearance and all the normal abnormalities that your little one might experience.

Flat Face
At birth, portions of your baby's face might be slightly flattened or pressed in. This is caused by positioning within the womb, as well as the tight conditions present during labor and delivery. The flattened areas should round themselves out within a few weeks.

Disproportionate Body
During the first few weeks, baby's limbs may appear much too short for his torso. Keep in mind that your child's body may develop in different stages, and they will seldom happen all at once. Your baby's limbs should catch up with the rest of his body within a few weeks. Large, turned-out feet and overlapping toes are also to be expected at this stage of development and will also eventually even out.

Cone-Shaped/Swollen Head
Many babies are born with a cone-shaped head because of the tight squeeze he felt during his trip through the birth canal. This conical shape should round out within one or two weeks. Your child may also have a condition known as Caput or Caput succedaneum, which is swelling on the top of the head and around the scalp caused by pockets of fluid that pool together during labor and delivery. This will go away on its own.

Your baby may also have "goose eggs" on his head, which are bumps caused by blood vessels beneath the scalp that broke during the birthing process. It is normal for these "eggs" to increasingly swell during your child's first week of life, and they can take up to two or three months to disappear.

Puffy Eyes
It is very common for babies to have swollen or puffy eyes a few days after birth because of the pressures caused by labor and delivery. Her eyes may also appear red and blood-spotted, which could be side effects of medications given to prevent infections. Most of the puffiness should subside within three days, but the red blood spots might linger for up to three weeks.

Milia
Milia (or skin bumps) are very small bumps that are usually yellow or white in color that can appear on the face of your newborn. They are generally caused by blocked skin pores. It is very important not to pick at or squeeze milia, and it is best to avoid treating it with lotions and creams. When your baby is about one to two months old, her pores will begin to open up more, and the milia will disappear naturally.

Birthmarks
Like a bright smile, fingerprints or a trademark giggle, birthmarks are another feature that makes your baby unique! There are many kinds of birthmarks, and most of them are nothing to worry about. Some may disappear with time, while others may be with your child for life. Here is a list of some of the most common markings that you might find on your newborn:
Port Wine Stain
Port wine stains are usually large, flat, and purplish-pink in color. They are caused by an abundance of blood vessels beneath the skin. They may fade but often require surgery for complete removal. It is important to have your child's health-care provider check these markings during every visit to ensure there are no abnormalities.
Mongolian Spots
These marks are most often seen on the buttocks, legs, or backs of dark-skinned babies. They can range from green, blue, or gray in color, and may be mistaken for bruises. Most times, these spots disappear within a few years.
Moles
Moles can range from brown to black in color and vary in size. They may already be present on your child at birth or may develop later on in life. Moles are usually completely harmless, but it is important to keep an eye on them, especially if your child spends a lot of time outdoors. Have your child's physician check on any moles that change in color or shape.
Cafe Au Lait Spots
These are very common birthmarks that are characterized by flat patches of light brown skin. They can appear anywhere on your child's body and may become smaller over time. Have these spots regularly checked by your child's doctor to ensure that there are no abnormalities.
Strawberry Hemangioma
These are soft, raised marks that turn from white to red over time. They are caused by an abnormal amount of blood pooling beneath certain areas of the skin. These markings may stay with your child up until ages 5-9, when they will fade and disappear.
Stork Bites
Stork bites are usually pink in color and are found on the nape of the neck and near the eyes. They are caused by blood vessel dilation and will disappear on their own.

Swollen Genitals
Don't be alarmed if your child's genitals are red or swollen the few days after birth. This is due to fluid retention and hormonal changes that your child is experiencing due to his or her separation from the womb. The swelling should go down within one week of birth. It is also important to note that baby girls might excrete white and/or bloody mucus from her vagina for a week or so after delivery. This is also caused by hormonal shifts and should stop within one week.

Jaundice
Jaundice is characterized by a yellowish or pink skin tone, and it is one of the most common ailments that newborns experience. According to the Children's Liver Disease Foundation, 90% of newborns will develop jaundice within a few days of birth. Jaundice usually reaches its peak on the fourth day of your child's life and then will gradually disappear by two weeks of age.

Although jaundice is generally harmless, it is important to keep an eye out for additional symptoms that may indicate liver problems in your baby. Check your child's urine and stools; his urine should be clear, and his stools should be green or daffodil yellow in color if breastfed, and green or mustard-colored if bottle-fed. If the urine is yellow and the stools are pale, it could be a sign of liver trouble and you should alert your physician immediately.

In breastfed babies, jaundice tends to be worse and last longer. Some medical providers will encourage moms to avoid breastfeeding for a few days and to supplement with formula. This can cause problems with breastfeeding success and, unless advised by a health-care provider, isn't necessary. Contact your child's pediatrician or health-care provide if you think the jaundice is worsening or if you have any questions about breastfeeding.

Acne
When your baby is three to five weeks old, he may develop a red, oily rash that is rough to the touch. Newborn acne usually appears predominately on the face. Do not treat the rash with creams or lotions. Instead, keep your baby's fingernails trimmed short to avoid scratching and wait for your child's skin pores to open up as he further develops, which should happen at one or two months old.

Eye Color
It is normal for most light-skinned babies to be born with blue-gray eyes. Your child's eye color may change over the first year or may stay blue or intensify in color. Dark-skinned babies are usually born with brown eyes that often do not change in color. To encourage your baby to open his eyes, avoid harsh lighting situations and keep the lights in the nursery at a dim setting.

Although most parents cannot help but imagine a perfect baby upon delivery, this is not always the case! By recognizing the small common abnormalities that newborns may possess, you can enter your journey of parenthood with a more prepared and realistic mindset. Your little angel will soon look just as you imagined him to be!

Selected sources:
Children's Hospital of the King's Daughters

Medline Plus