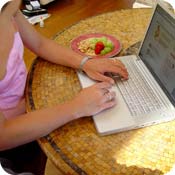 Pregnancy and motherhood can feel like an emotional roller coaster sometimes. Is it normal to feel this way? Am I doing this right? Will I be able to handle it all? Will I be a good mom?

The answer is "yes" to all of those questions, but it's helpful to read stories of other women who have triumphed over adversity to become wonderful mothers, often with the help of BabyFit. That's why we love featuring your "Success Stories."

From a mother who dealt with multiple sclerosis--the same disease that left her mother bedridden--to a mom whose seventh pregnancy was unexpected and later in life, these stories inspire and inform, surprise and encourage us as mothers.

Read about a mom who gave birth at home and in the water and one who dealt with crippling morning, noon and night sickness while pregnant with twins. Find their stories and more here.

Once you've read those motivating and reassuring stories, moms, we'd like you to share your own.

Stories should be 750-1,500 words and will be edited by BabyFit. Send your story to stepfanie@babyfit.com, with the subject line "Success Story." You might see your story on your favorite website, BabyFit--and inspire other moms-to-be!