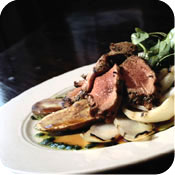 Sometimes, general dining out strategies can only help so much. When you eat at a privately-owned or ethnic restaurant, there's often no pamphlet or website with nutritional information and amenities offered. How do you know what to order, especially when you're bringing children along?

That's why we researched and collected tips for the most popular restaurant cuisines.

This article is part of our BabyFit Family-Friendly Dining Guide. We tried to emphasize kid-friendly foods and health at the same time. As we believe in all things in moderation, you'll find a few indulgences and treats on each of our menus. We also provide pros and cons about this type of cuisine, plus some activities to entertain children at restaurants. French is not always synonymous with fancy. French bistros offer plenty of fare that can please even the pickiest pint-size palate.

Kid-friendly dishes

Appetizers/Sides
French onion soup: Kids will eat onions without complaint if there's plenty of melted cheese on top.
Cheese plate: Though usually served at the end of a meal, cheese, fruit and bread is a great way to start the meal. Ask the kitchen to leave out the stinky ones!
Pate: Pate is meat--often liver--or vegetables that are slowly cooked with herbs and ground to a smooth paste. Despite its humble roots, pate is quite delicious. Don't tell them what it is. Spread it on bread and watch them gobble it up!
Soupe du jour (Soup of the day): If it's a pureed soup, you might be able to sneak in some vegetables.
Entrees
Quiches: Eggs, cheese and a flaky pastry crust stealthily hide veggies.
Croque Monsieur: It's a fancy name for an open-faced ham-and-cheese sandwich dipped in egg.
Crepes: Not just for dessert, these whole-grain thin pancakes can be filled with meat, cheese and/or vegetables.
Treats
Chocolate mousse: Call it a grown-up chocolate pudding.
Tarte tatin: Upside-down apple pie is irresistible.
Thumbs-up
French restaurants usually serve reasonable portions. Vegetables are included in most dishes.
French cuisine relies on plenty of herbs, but the food isn't spicy.
Thumbs-down
Entrees are often drowning in sauces and are often very rich or greasy.
French cuisine often uses meats that children are more accustomed to seeing at a petting zoo (lamb, duck, etc.).
Table talk
Teach your kids a few words of French bonjour, merci, and oui are a few easy ones or a some facts about the country. Get a book from the library if you don't speak French.

Note: Pregnant women should avoid eating deli and processed meats, soft cheeses, and some types of seafood due to the risk of illness to herself and her unborn child. Eating raw or undercooked meat, poultry or seafood also poses health risks. Find more information on which foods to avoid here.