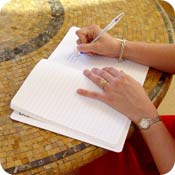 I hate to do laundry - not quite as much as I hate cleaning the toilet but enough that cloth diapering never occurred to me when I got pregnant with my son, Drake. So, why does Drake currently have a comfy Fuzzi Bunz cloth diaper on his bottom?

Peer pressure.

I admit it. The first time I tried cloth diapering was because a frugal, environmentally conscious friend of mine did it. Don't get me wrong. I'm all for saving the world, I just didn't think I could do it one diaper at a time.

My friend, Kristen, talked to me about it for several months. I'm sure I told her that I thought it was great and a wonderful thing to do. I'm also sure I didn't mean I thought it was a great or wonderful thing for me to do. Still, she took the opening and loaned me a few diapers.

I gave them a shot. I like to think I had an open mind about the experience, but at the end of two days I was done with cloth. I had to do two loads for every batch of diapers - one for the diapers themselves and one for the covers. They also didn't pull moisture away from my son's bottom. They were easier to change than I expected, but that was the best I could say.

On the third day, I handed the freshly laundered diapers back to my friend and told her that I didn't think it was for me. The experience left me with something, though - a strange feeling of guilt. I wasn't the only one who hated doing laundry. I was just the one playing lip service to environmental friendliness while dumping thousands of diapers in landfills.

It would be many months before the seed of guilt blossomed into a fresh attempt. Drake had just turned two and I was pregnant with my second child when I happened to see a stash of cloth diapers at another friend's house. But these were different. They didn't require folding or covers. The diapers didn't look like burp rags. They looked strangely like....diapers. They were diaper shaped and had snaps or velcro where the sticky tabs on disposables would be.

Maybe it was the pregnancy hormones or maybe it was that seed of guilt, but I got online and did some honest research before trying again. I found out that there are many different types of cloth diapers to fit a wide range of needs and budgets.

I ordered three large Fuzzi Bunz to try on Drake. The first time I went to put one on him, he cried. After two years of disposables, he was a bit freaked by the change. I convinced him to wear one and the test began.

Wet diapers were easy. Off the bum and into the pail, just like disposables. Poopy diapers took a little more getting used to but as the months go on, I just can't think of them as a big deal anymore. Dump....flush...rinse...toss. Yeah, you have to look at the stuff a bit longer than you do with disposables, but it wasn't any messier. I have to wipe it off his bum either way.

Change is hard, though. After two days, I still wasn't sure what I thought. I had washed the diapers twice and found them easy to clean, despite my characteristic ineptitude with laundering clothes. (Seriously...whites, darks? What do you do with the patterned ones?) Folding them wasn't a big deal and I realized that folding was, in fact, the part of doing the laundry I really didn't like. I often had clothes sit in the dryer for days...

On the third day, my son woke up and we began his normal morning routine with one change. I held up a disposable diaper and a cloth diaper and asked, "Do you want a Huggies or a Fuzzi Bunz?" My son isn't the best talker, but he is a terrific pointer and it was with an enthusiastic flourish that he grabbed the Fuzzi Bnz right out of my hand!

Drake liked them. They must have felt nice on his bum. I can't say I blame him - they're so soft on the inside. I'd rather have that on my bum than paper with absorbent chemicals.

So in the end, it wasn't the environment (though I'm doing a good thing), nor the savings (especially since I chose the pricier diapers), nor the peer pressure that turned me to cloth. It was my little boy. He liked them.

If there's anyone in the world that I'll do laundry for, it's my Drake. As the months pass, it doesn't even feel like a chore anymore. Really, it only takes about 15-20 minutes a week.

If you're interested in cloth, I encourage you to do your homework before you start. There are many different ways to cloth diaper and you will want to pick the one that works best for you. None of them are bad; they simply have pros and cons. The cheapest options can save you thousands but are less convenient. The most expensive options are almost as convenient as disposables but will only save you a little bit on one child. (Subsequent children save tons!)

For me, it's pocket diapers. I still use Fuzzi Bunz but am now hooked on Bum Genius one size. They snap down to fit a very small baby or, on the biggest setting, they fit Drake.

Pocket diapers have an inside layer that keeps moisture away from your baby's bottom to keep him or her dry and to prevent diaper rash. The outside is made of various waterproof materials that keep them from leaking. In between, in the "pocket," goes an absorbent core called an insert. You can use 2 or 3 inserts to make them work all night long.

BabyFit has a great cloth diapering team that is a good resource to help you get started. It actually took me a few weeks to find it, and I really wish I had joined sooner - it would have saved me from trying (and paying for) six different types of diapers. The ladies there did help me to choose a newborn stash for my second baby, and I continue to go there to beg for help or to offer advice.

Christine Amsden, aka NOT_A_WITCH, is a published author and a BabyFit member.

Do you have a Success Story you'd like us to publish on BabyFit? Send your story, along with a photo of you and your baby, to stepfanie@babyfit.com. Submissions should be 500-1,500 words and will be edited for clarity, grammar and tone.