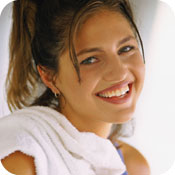 Sometimes, it's all you can do to squeeze a workout during your lunch hour or before the evening PTA meeting. In an ideal world, you'd also have time to shower, fix your hair, and dress to impress. But in the real world, you don't always have time for all of this. Instead of skipping your workout altogether in lieu of extra shower time, consider some of these shower alternatives for time-pressed exercisers.

Workout Clothes
There are many different ways to refresh your body, from head to toe, starting with your workout clothes. Sitting around for hours in sweaty clothes isn't very comfortable or appealing to your co-workers. Bring a change of clothes to the gym, everything from socks, to shirts and even undergarments. Women especially need to bring a change of underwear to prevent yeast infections that might arise when wearing damp or sweaty undergarments for too long.

Consider buying exercise clothes made from synthetic fabrics that are specifically designed to whisk away sweat, keeping you cooler and drier, such as Dri-Fit by Nike, Double Dry by Champion, or Cool Max. Cotton clothes retain sweat and moisture, making your sticky and stinky. Also, wear breathable socks, not dress socks, while you work out. Women should always wear sports bras, not only for support, but also so that they can change back into a clean, regular bra when finished.

Head to Toe
If you have long hair, pull it up or back while on the treadmill or lifting weights. This way, it's less likely to fall down onto your neck or face and pick up the sweat that lies there. Carry a small towel with you to wipe off excess sweat while you exercise. Never touch your hands to your sweaty face, as this spreads bacteria and increases the likelihood of acne. Just use your towel (blotting, not wiping) instead!

When you are done with your workout, let your hair back down. You can apply hair freshening products (in spray or powder form) after exercising to help neutralize or refresh the smell of your hair, such as Aveda Light Elements Reviving Mist or KMS Turnstylr Do-Over Cleansing Spray. Powder products also help decrease moisture and oil, keeping hair looking and smelling great until you have time to shower later.

Bring some disposable body wipes or towelettes (available at most drug stores and online). These wipes remove excess oil from your skin. Some varieties are gentle and can be used on your face, while others can be used all over your body. These are great option when you don't have time to shower and they're small enough to keep a pack in your gym bag or car. Try Crabtree and Evelyn Citrus Travel Towelettes, L'Occitane Green Tea Refreshing Towelettes for Hands and Body, or Avon Clearskin Deep Cleansing Cloths.

Continued ›