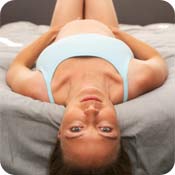 Although soaking in a relaxing, warm tub can be an excellent way to not only cleanse your body, but during pregnancy it can do double duty by also helping to relieve your stress. However, it's also important to know that the temperature of your bath water is important to monitor during pregnancy.

One reason is that water that is too hot will not only dry out your pregnant skin, it might also harm your baby, increasing her risk of birth defects, or even the risk of miscarriage. Ideally, water that is around 100 degrees is ideally suited for the pregnant body.

However, if you just can't live without at least an occasional steamy soak, The American College of Obstetricians and Gynecologists says bath water can go as high as 102 degrees—but at that temperature you shouldn't spend more than 10 minutes in the tub.

Additionally, don't add more hot water after you've been bathing for a while unless you use a bath thermometer, even if you think the water is starting to cool. The reason: As your body becomes used to the warmer water, you lose some sensitivity to the heat, so you may not realize how hot your bath actually is.

If you want to enjoy a fragrant, as well as a relaxing bath, consider adding an array of fruits, flowers or other natural ingredients to your tub water. Not only can this pamper your skin, it can also enliven your senses and offer some true therapeutic effects. While you can add almost any natural ingredient to your bath that you like, here are a few secret favorites from spas all around the world:
Milk, powdered or fresh, you can add as much as you like for silky, smooth skin
Pineapple contains a natural enzyme that improves skin tone. Squeeze fresh pineapple juice or use fresh frozen or canned juice—about a 1/2 cup for each bath.
Honey: A few tablespoons under running water will give your bath a sensuous fragrance. Honey also has disinfectant properties and can help soothe body acne
Oranges, lemons and limes: Grate the rind and add it to your bath; use slices of lemon to soothe rough knees, heels and elbows.
A few drops of vanilla extract in your tub will relax your body and your mind.
For skin that is ultra dry, add one tablespoon of avocado, sesame or wheat germ oil to water.
For skin that is moderately dry, add one tablespoon of almond, apricot or vitamin E oil.
For skin that is oily but lacking moisture, add one teaspoon of calendula or safflower oil.
When skin is itchy, red, inflamed or irritated, you can also add a handful or two of oatmeal and when filling your tub. But if getting your spa ingredients from the kitchen cabinet takes away some of the glamour of your pampering ritual, try Aveeno's 100 Percent Natural Colloidal Oatmeal Bath Treatment for Dry Itchy Skin or Baby Bee Buttermilk Bath from Burt's Bees to soothe irritated skin.