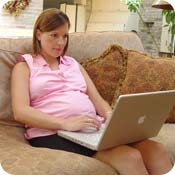 In an effort to improve our site features and help you have the healthiest pregnancy possible, BabyFit is proud to announce the launch of 5 new email newsletters, in addition to the weekly email you currently receive. These will cover a variety of topics, from nutrition and fitness to inspirational quotes. And, like all BabyFit features, they are absolutely FREE!

You can now choose to receive any or all of the following BabyFit newsletters:


Pregnancy Exercise Tip of the Day: New pregnancy exercise techniques and tips
Healthy Reflections: Inspirational quotes and stories to keep you motivated
Natural Mother Daily: Learn about "natural" approaches to pregnancy and parenting
Recipe of the Day: Simple, nourishing recipes and kitchen tips
Today's BabyFit: BabyFit's best tips and advice
In addition, we've made some improvements to your current "My Pregnancy This Week" e-mail, and renamed it as "Being BabyFit". You'll still receive Being BabyFit once a week for information relevant to your week of pregnancy.

Since we always want to provide members with the option to receive only the emails they request, you will need to visit BabyFit.com to opt-in to these new emails. Remember, you can always easily unsubscribe, and BabyFit NEVER provides your email address to anyone else.

Click here to go to your Account Preferences, and then click the link there to your "edit my e-mail preferences" to choose which newsletters you want to receive.

As always, we sincerely thank you for your support of BabyFit.com!