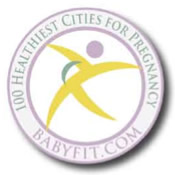 Ann Arbor, Michigan is the second healthiest city for pregnancy according to BabyFit.com's list of Top 100 Cities for Healthy Pregnancies.

Ann Arbor was rated in the top 10 in the category for "women receiving having access to an OB/GYN" and scored in the top 25 for two other healthy pregnancy indicators including the lowest levels of stress and the lowest levels of pregnant mothers receiving late or no care.

This is not the first time Ann Arbor has been honored. Previously, Employment Review Magazine rated Ann Arbor the 10th best city in the nation to live and work in June 2002. It also earned the number 10 spot in The Princeton Review ranking of the best college towns in the nation in September 2001. Additionally in 2001, American Style Magazine named Ann Arbor the 22nd best Arts Destination in the nation.

Return to the full list of the Top 100 Cities for Healthy Pregnancies.