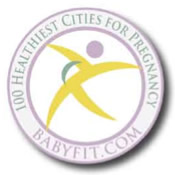 Overland Park, Kansas is the healthiest city for pregnancy according to BabyFit.com's list of Top 100 Cities for Healthy Pregnancies. Learning of his city's number one ranking, Overland Park Mayor, Carl Gerlach said, "As a nationally recognized community to raise a family, Overland Park is fortunate to have excellent medical services and facilities, and caring and knowledgeable physicians and staff members to assist expecting parents…We are honored to be recognized by BabyFit.com as the Top City for Healthy Pregnancies."

Overland Park was rated best in the category for "women receiving care in the first trimester of their pregnancies" and scored in the top 25 for three other healthy pregnancy indicators including average baby birth weight, mother's average age during pregnancy and the rate of anemia among expecting mothers.

This is not the first time Overland Park has been honored. It earned a spot in the book "50 Fabulous Places to Raise a Family" in 1993 and 1997, was recognized as the top kid-friendly city in the nation in 2001, and was named one of the best places to live by Money Magazine in 2003.

Return to the full list of the Top 100 Cities for Healthy Pregnancies.