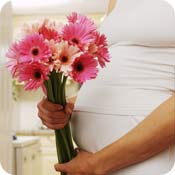 My husband and I decided to start trying for a baby in September 2003. In December (after being off the pill for three months) I caught Dengue Fever (a virus transmitted by mosquitoes, common here in central Vietnam). I was devastated as it meant I was in bed with severe headaches, backache and could not eat and barely drink for about a week. Not a good time to get pregnant. Also, it was expected that I would take six weeks to recover from the virus. During that time I could not work and stayed at home on bed rest/couch arrest! Although I was resting and eating well, I could tell that something was still wrong with my body--I was dizzy, nauseous, fatigued and had diarrhea all the time--common Dengue symptoms.

But when six weeks passed and I still wasn't feeling better, I wanted to see the doctor again. This time I asked him to give me a pregnancy test amongst the other blood tests. The result - positive for Dengue virus (low count) and negative for pregnancy. I took his advice taking 2 different medications for parasites (we are in a tropical country after all). After a week, I still was not better, so I was sent home to Canada for more tests. Within a week we discovered I was pregnant! What a great surprise, but then there was the fear. What effect would the Dengue have on the baby? The medication?

I was still tired but now hungry all the time. I saw the specialist in tropical medicine and he assured me that since the fever was finished before I conceived, it was unlikely that there would be any effect. He wasn't sure about the medication. After talking to two obstetricians, I was reassured that the risk for birth defects was low. Then came the ultrasound and everything was normal at nine weeks. Then I returned to Vietnam at 12 weeks and out of the danger zone for miscarriage. It was a lot of fun telling our friends and colleagues about our pregnancy. We had another ultrasound at 15 weeks and all was still normal.

All through this time (13 weeks on) I was very conscious of eating well and taking supplements to keep my energy up. I also did low impact exercises at home to keep my spirits up, my weight in the range, and to build my strength. I subscribed to every email newsletter I could to keep me up to date on the development of the baby. Sharing this news with my husband also kept him involved. At 16 weeks I started to feel the first big kicks - reassuring me that all was well on the inside. I felt great - good enough to travel to Cambodia and Laos at 21 weeks.

Continued ›