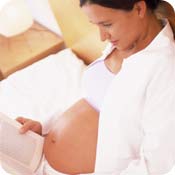 Why Attend A Childbirth Class?
Birth can be one of the most rewarding experiences of your life. Childbirth preparation classes can help you during labor and provide you with the satisfying experience of giving birth to your baby. Childbirth classes involve education, techniques and support for both the mother and her labor partner, helping them become informed participants. There are a variety of classes available to meet your needs. An informed couple is less likely to fear the unknown.

The classes will provide you with the anatomy and physiology of childbirth as well as the progress of labor and birth. You will practice the techniques of breathing and relaxation and comfort measures. If you are an athlete, you train vigorously for a big event. You would not enter a competition having only read a book. Labor is similar. You must practice so your body will be able to respond to certain signals.

By attending childbirth preparation classes you will know what your choices are and will more confident when working with your caregiver and other hospital staff. You will also meet other expectant couples with whom you can share this special time. Information about pregnancy and childbirth is widely available through the internet, cable television and numerous books. A class will provide immediate feedback, a "hands-on" approach.

Now is the time to start thinking about what childbirth class meets your needs. Your special day will be here before you know it!

Choosing A Childbirth Class
It is all too easy, especially for today's busy couples, to postpone "getting into the pregnancy." Before you know it, the baby is due. Have you chosen a class? There may be several options available in your area. Some sources you can use are your caregiver, internet and friends. Here are some points to consider when making your choice:

Is the instructor a registered nurse and a certified childbirth educator?
Does the class provide unbiased information or is it geared to a particular medical practice?
Is it merely an information session or are labor techniques practiced in class?
What is included in the classes? (ex. nutrition and breastfeeding)?
A quality class will help you discover what options are available and how to achieve the kind of birth experience you and your partner hope to have.


Childbirth Education Association
513-661-5655

The Childbirth Education Association of Cincinnati was established in 1950 as a non-profit organization dedicated to preparing couples for the birth of their baby. Our group of Registered Nurses and Registered Dieticians provide comprehensive childbirth preparation. Our classes are designed to meet your individual educational needs. Topics include nutrition, breastfeeding, comfort techniques for labor, the role of the labor partner, exercises during pregnancy, hospital procedures, and special situations, including Cesarean birth. While there are a number of childbirth classes available, CEA classes are comprehensive, in-depth and focused on preparation.