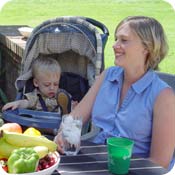 If you're glowing and great with child, there should be no worries about the baby shower! All you have to do is show up, drink some punch and let yourself be "showered" with gifts and the love of your friends and family. I think that's why they call it a shower in the first place.

If you're the sister, mother or girlfriend of a mom-to-be, why not step up and offer to host the event? With a little advance planning and some creative ideas, you can throw a wonderful shower without stressing yourself out.

Timing Is Everything

A general rule of thumb is to host the baby shower 6-8 weeks before the baby is due. It's a good idea to throw the shower well in advance so you don't run the risk of having the happy event interrupted by labor pains. Also, having the shower several weeks in advance will give the parents time to purchase remaining items that they didn't receive as shower gifts.

Plan to have the shower last between 2-4 hours. One hour is too short and feels rushed and impersonal, unless you are throwing a lunchtime shower for a co-worker and your time is limited. More than four hours can be taxing on the mother-to-be and can drag out for guests. It is perfectly acceptable to indicate a start time and an end time on the invitation. This takes the pressure off mom-to-be and allows everyone to plan their day.

Pick A Theme

The first step in planning any party (a baby shower is really just a party with lots of presents) is to choose a fun theme. Even though a baby shower has a built-in baby theme, you can still be adventurous and plan something everyone will enjoy and remember.

First, forget that it's a baby shower. Just imagine that you're planning a regular party and let your creativity flow. What theme might you choose if this weren't a shower? It could be a regional theme, such as "Old South," complete with mint juleps and white gloves. If the guest of honor is an outdoorsy girl and loves horses, how about a "Western" theme with barbecue and cowboy hats? You might choose an Italian theme and serve bruschetta, trays of cheeses, olives and peppers, Italian sodas to drink and tiramisu for dessert. Or how about a "Big Dipper" theme, serving only a wide assortment of dips and spreads with many breads, crackers, fruits and veggies to dip?

Continued ›