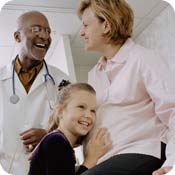 Once that pregnancy test colors the precious "positive" line, emotions begin to charge and a sea of pregnancy questions flood your mind. If this is your first pregnancy the unknown can be particularly overwhelming. Where do you go for help? There are scores of pregnancy books on the market, but it's best to ask your doctor or medical care provider any medical questions you may have. It's also imperative to employ a good physician or midwife that you feel comfortable enough with to ask any question.

If you don't already have an established health care provider it is time to start pronto. Take the time to interview the care provider and make sure you are satisfied with his or her qualifications. It's your responsibility to make sure you ask questions for things you want to know.

With rising cost of malpractice insurance, many doctors, especially OB/GYNs are taking on more patients to help cover their incredibly high insurance costs. This often translates into busy doctors, longer stays in the waiting room, and shorter patient visits. Make sure you have a doctor or midwife who values your concerns and questions. He or she should give you adequate time in answering questions with direct, complete and well-thought out answers that are explained in a way that you understand.

That said, it is best to come prepared with questions in hand rather than trying to remember them off the top of your head during a visit. Keep a running list that you take to every doctor's appointment and add questions to the list as they come to mind before the visits. Remember to write down the answers in the examination room and keep these notes. It is easy to forget once you walk out.

It is also recommended that you contact your doctor or midwife's office and ask if they have a list of most frequently asked pregnancy questions and answers. Below are some additional questions you may want to ask in the beginning or at different times during your pregnancy.

Questions to ask your doctor or healthcare provider

What is my due date?
Will you be in town and available around the time of my expected due date?
Who is "on call" if you are unable to be at my delivery? May I meet this person?
Are there residents or interns who will take part in my delivery and/or medical care? (If you don't want this, be sure to let them know.)
May you have other people in your delivery room? Is there a limit to the number of people? (You will probably want the daddy there, or maybe other family members as well.)
What is your policy for calling with questions over the phone? Are there particular hours? How long does it take to get a reply? Is there a charge?
What percentage of your deliveries is via C-section?
What is your philosophy on C-sections? (Only a last resort vs. an "easy" way to get the baby out. If the latter, it may be "easy" for them, but not for you! The recovery is no fun.)
Do you suggest I write a birth plan?
Ongoing health of you and baby
When will I have an ultrasound? Will I receive a picture? Can I video tape it?
How can I tell if the symptoms I am having are normal?
What do I do if I think there may be an urgent problem?
How much weight should I gain?
How many calories should I consume per day?
What kinds of exercises can I and can I not do?
What should I be aware of while exercising? (Heart rate, etc.)
Are there foods, drugs, environments that I should stay away from while pregnant?
As birth time approaches
Is there anything I can do to make my birth easier? Exercises, etc.
How do I measure contractions?
When do I call you to go to the hospital?
Have you ever done umbilical cord stem cell recovery? If so, what company do you recommend we use? (You may want to check into saving the baby's umbilical cord stem cells).
What types of infant health tests/screenings are required by state law? Do you recommend getting any supplemental tests?
Post birth
Do you have a pediatrician you can recommend? (Interview them well before your birth).
What kind of post-partum medical care will I require?
What can I expect for post-partum recovery?
If you are planning to deliver in a hospital determine the hospitals your doctor or midwife delivers at and know what your insurance will cover. Take a tour of the hospitals and determine where you will be more comfortable because not all hospitals are alike. More women are choosing hospitals with birthing rooms.

This is one of the most exciting times in your life, and the way you treat your body can have a major affect on your baby. If you have any doubts or questions, don't be afraid to ask!