Warm days are filled with family picnics, neighborhood cookouts, community parades—and lots of summer food favorites.

Grilling can enhance the flavor of meats, poultry, fish and even garden-fresh fruits and vegetables. To liven up your grilling experience, add a fast and easy liquid marinade, spicy rub, or tangy glaze.

Marinades consist of liquid ingredients (a mix of fruit or vegetable juices, wine, water, or oil) combined with seasonings and herbs. When meat soaks in the liquid, it becomes saturated with flavor. Beef should marinate for 6 hours or overnight; pork, fish, and chicken, which are more tender, only need to steep for 15 minutes to 2 hours.

Get the most out of your marinade: Add acidic ingredients to the mixture to help tenderize the meat, and always marinate in the refrigerator. It's safe (and tasty) to brush on marinade during the grilling process, but never reuse the marinade or use it as a dipping sauce after cooking (because of bacterial contamination).
Island Marinade Recipe


In a self-sealing bag, combine together 1/2 cup orange juice, 4 tablespoons lime juice, 3 cloves crushed garlic, 2 teaspoons dried thyme, and 1 tablespoon honey. Add pork chops or chicken breasts. Seal and refrigerate overnight.
A Dry Rub is a mix of spices that is rubbed onto meat just before grilling.
Try this Southwestern Rub on chicken or pork.


Mix together 5 teaspoons chili powder, 1-1/2 teaspoons oregano, 1/4 teaspoon ground cumin, and 1/4 teaspoon garlic. Rub onto 2 pounds of meat and grill.
Glazes are made from jams and jellies that are thinned with a liquid such as orange or pineapple juice. Since glazes are high in sugar they can easily char and burn. Therefore brush the glaze onto the meat during the last 5 minutes of cooking.
Recipe for Ginger-Apricot Glaze


Stir together 1 cup apricot jam, 2 tablespoons lime juice, 1 tablespoon soy sauce, and 1/8 teaspoon dry ginger. Brush onto meat during last 5 minutes of grilling.
Select firm, ripe veggies for grilling. Cut the vegetables into large pieces and place them on skewers. Baste lightly with a vegetable oil spray and season with herbs, soy sauce, wine, or flavored vinegars. Grill until hot, tender and slightly golden brown. Try bell peppers, cabbage, eggplant, mushrooms, onions, summer squash, tomatoes, potatoes, or sweet potatoes.

You can also grill firm, ripe fruit on skewers! Lightly spray large pieces with vegetable oil. Sprinkle with brown sugar, cinnamon, or ginger. Grill until slightly golden brown. Great choices include apples, apricots, figs, peaches and pears.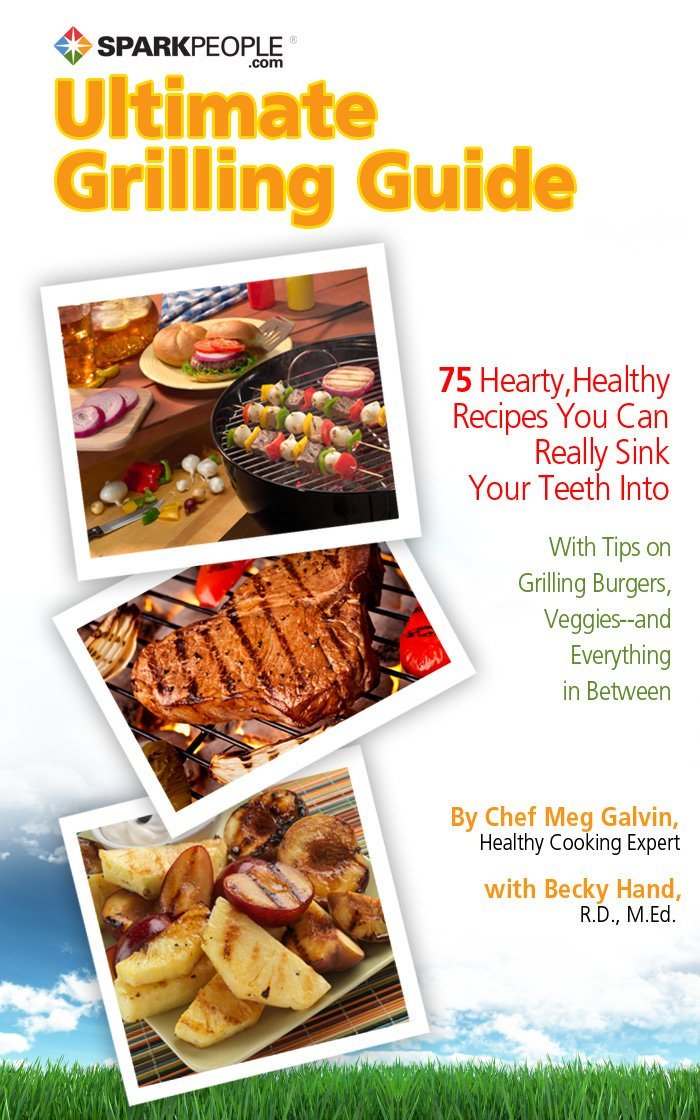 Need more great grilling ideas? Check out our e-book, ''SparkPeople's Ultimate Grilling Guide: 75 Hearty, Healthy Recipes You Can Really Sink Your Teeth Into.'' Get it on Amazon.com and get grilling!