As a working parent of two elementary-school-aged children, there is a lot I have to let go because there simply isn't time to manage it all. Maybe some weeks the kids spend more time than they should in front of electronic devices; sometimes I cave and let them wear shorts when it's below 50 degrees. Do they always floss? No. Okay, almost never. Did my son once go several weeks without washing his hair, unbeknownst to me or my husband? Perhaps.

But there are some things I don't let slide, like making sure they pick up their dirty clothes from wherever they happened to take them off (typically in the middle of their rooms, or, my personal favorite, right in front of the hamper), doing their homework and having dinner as a family. Sure, there are times when sporting events or other things pop up and this doesn't always happen, but we do try to eat together most nights of the week.

While I do enjoy cooking and know how to cook most things, though, our dinner menu choices have grown rather stale as of late. Despite consistently vowing to try new things, peruse cookbooks the week before to plan meals and make new ingredients lists, those wishes often disappear into the ether. As a result, the cycling through of about 20 quick(er) and easy dinner standbys ensues.

I desperately wanted to break out of this rut and still try something new a few nights of the week, without adding too much to my already full plate. Enter Blue Apron. Blue Apron is one of a growing number of meal delivery services available across the country. The concept is simple: Fresh ingredients for chef-designed recipes get delivered right to your door, allowing anyone to create delicious, healthy meals right in the comfort of his or her own kitchen.

After signing up and selecting my dietary preferences online, I was presented with a
menu of four choices and instructed to pick two. From the list, I chose the seared chicken and potato salad and roast pork and smashed potatoes and left the catfish meuniere and miso ramen and tempura acorn squash for another time. According to the service, calorie counts for any meal available on the site are between 500 and 700 calories per serving, which should fit nicely in most nutritional plans.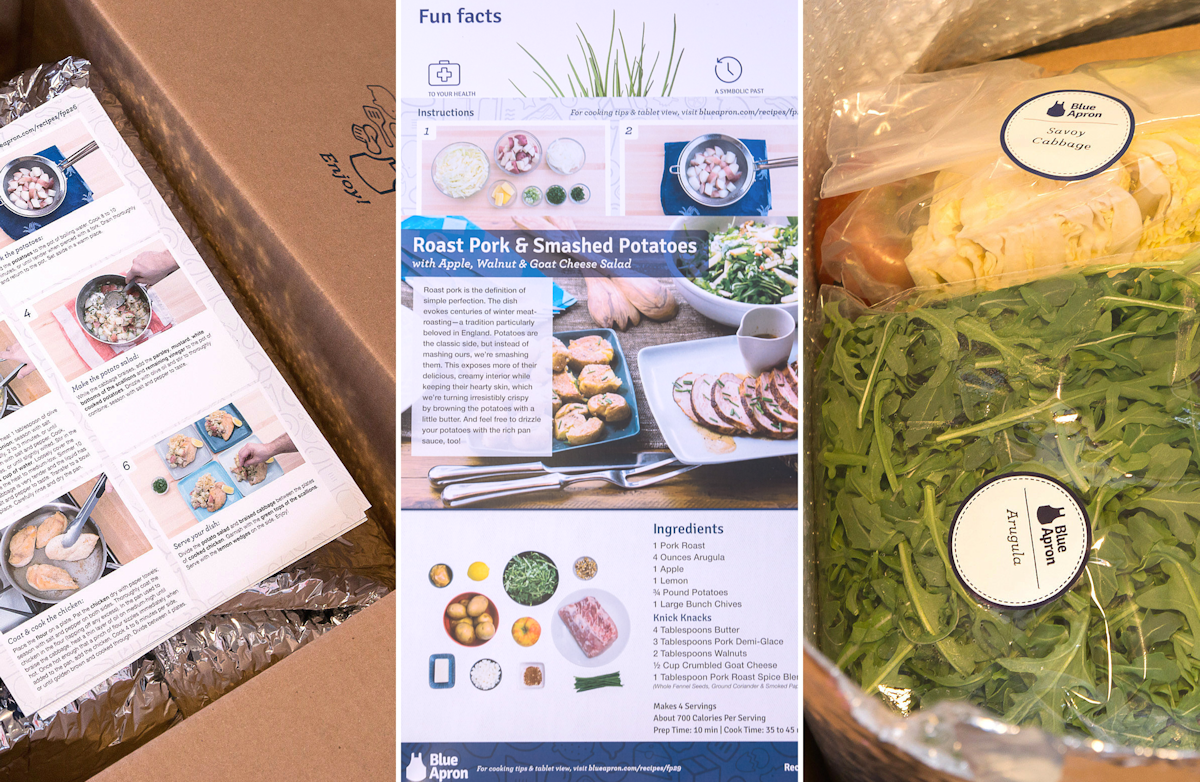 Ten days after I placed my order, a big box showed up on my front porch. Waiting inside for me were 22 perfectly packaged and clearly labeled ingredients, ranging from chives to goat cheese, fresh and ready to be transformed into something delicious. The only ingredients I had to provide were salt, pepper, olive oil and water.
Because it is Blue Apron's mission to "make incredible home cooking accessible," delivery is key. The company ships more than five million meals per month nationwide, and the delivery day changes depending on your zip code. I received mine on a Friday and made the meals on the following Sunday and Monday.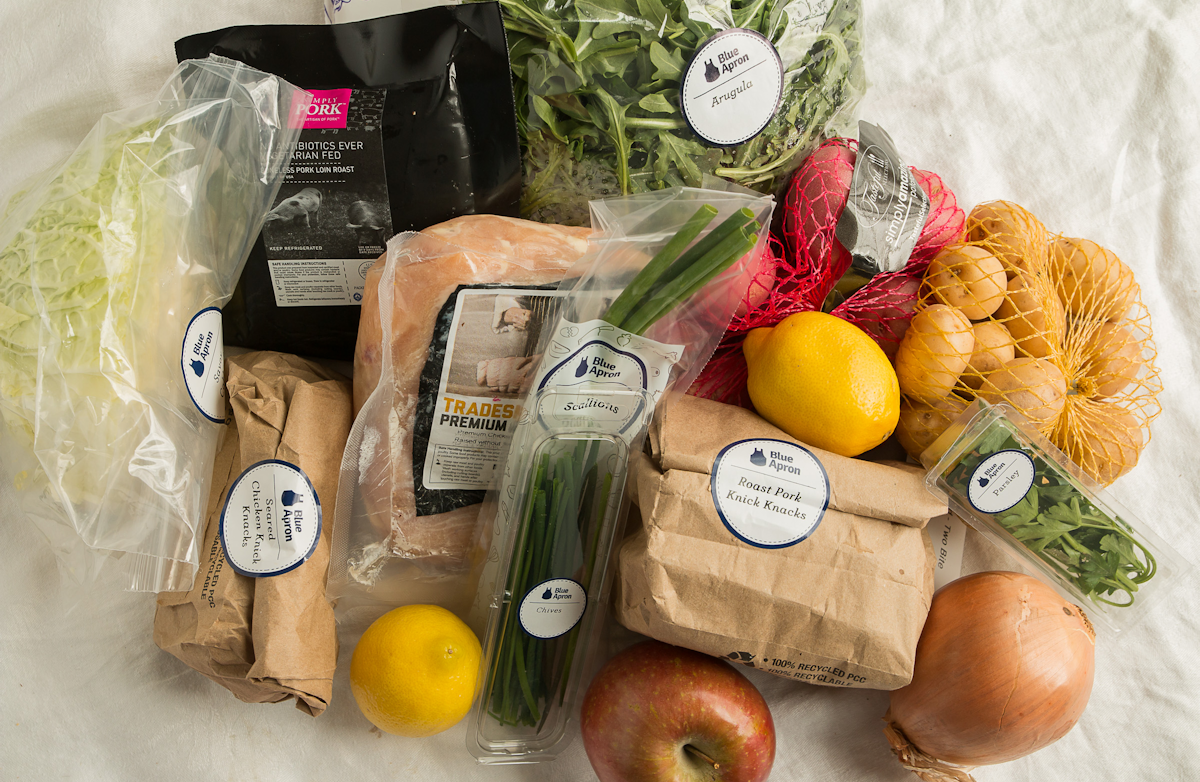 The company employs culinary experts who create seasonal, original recipes that are not repeated within a calendar year and the online recipe selection changes every week, so the next time I purchase meals from them, I will always be presented with fresh opportunities to try new recipes.
Cooking, the Blue Apron Way
I enlisted the help of my husband as we took our the ingredients out of the fridge and began to follow the colorful, step-by-step directions on the 8 ½ x 11 card to make the first meal of roast pork. Looking at all the packages and containers spread out across our countertop, I felt somewhat skeptical of the touted average prep time of 35 to 45 minutes. I watched the clock while we cooked, and, to my surprise, we finished around the 50-minute mark. The added time was on my end though, as I was stopping periodically to take pictures. This could definitely be finished in the estimated time.
The cooking instructions are presented in a six-step format with instructional photos. Some steps had multiple action items, such as "while the pork sears, wash and dry the fresh produce," but everything was explained in enough detail that a beginner should be able to do it. True novices can pick up essential cooking prep techniques—such as how to prep parsley—along the way by following along with the company's handy how-to videos, which are available on their
website
.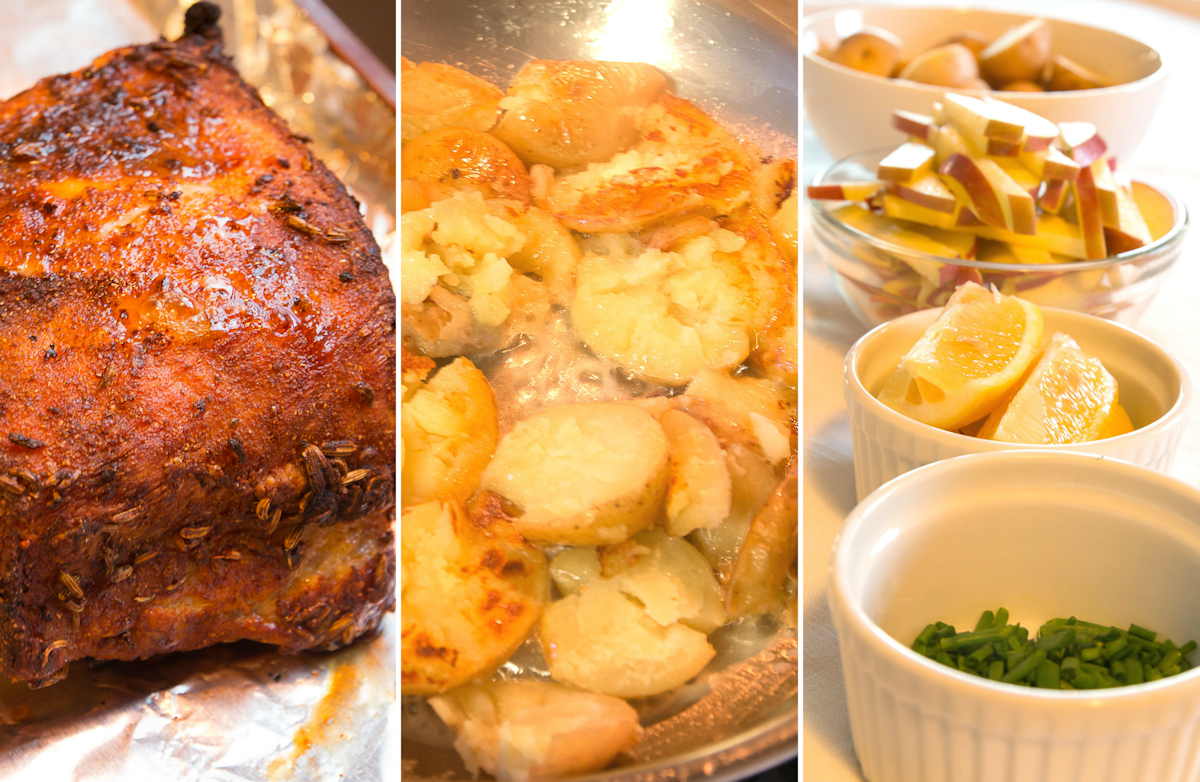 When everything was finished, we gathered up the pork, potatoes, salad and sauce and dinner was ready to be put in front of the waiting patrons (the kids). The good news? They liked and ate it all—even the peppery arugula salad. The better news for us? The recipes were surprisingly easy to make and came together fast enough that no groans of, "I'm hungry!" were heard from the dining room.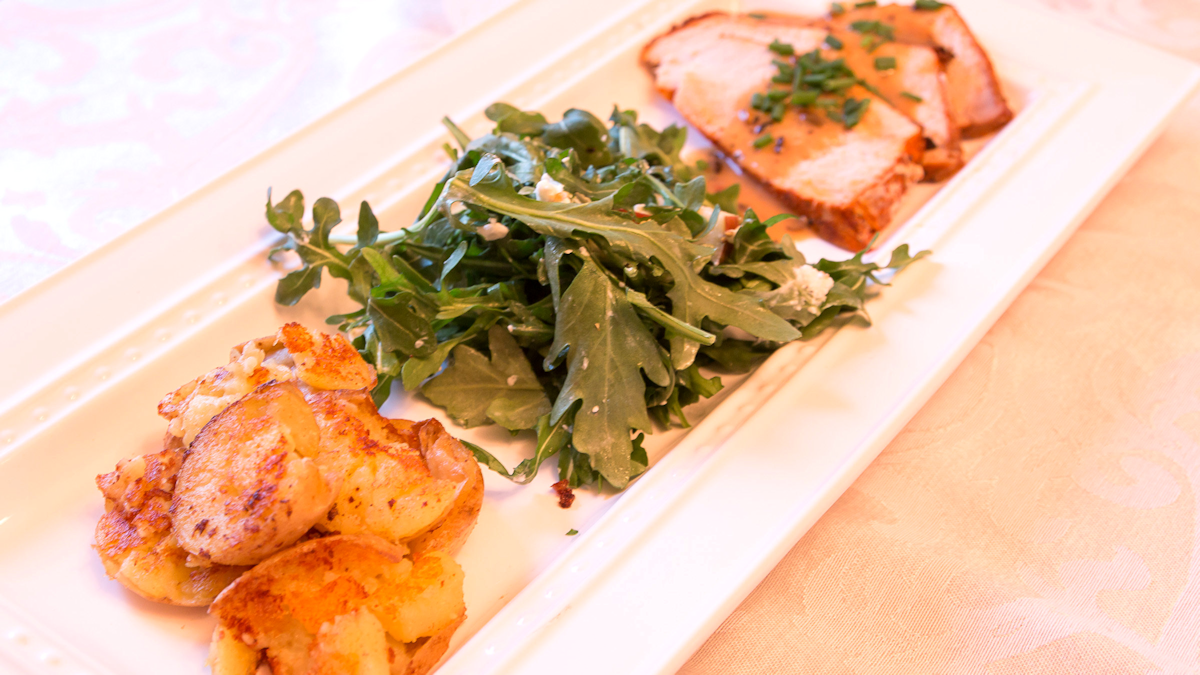 The following night, we made the second meal of seared chicken and potato salad with sweet-and-sour cabbage. Again, the directions were easy to follow, and from fridge to table took us about 45 minutes. Overall, I preferred the chicken over the pork for the meat selection, but the arugula salad from the first night was amazing. Now that the recipes are in my repertoire, I definitely see myself picking up the ingredients and making them both again.
Fun, Fast and Healthy
Overall, cooking with Blue Apron was a fun, time-saving experience. Having all the ingredients pre-packaged in the exact amounts needed was great because there was no food waste. On the flip side, though, packaging and labeling every portion for every meal means a lot of extra packaging ends up in the garbage.
If you are looking for a healthy, affordable (a four-person plan includes either two or four meals a week at $8.74 a meal) meal-service plan, then Blue Apron might be for you. Double-down on the fun by cooking with your significant other or your friends. You will learn new recipes, cooking techniques and—best of all—be rewarded for all your hard work with a delicious, low-calorie, home-cooked meal.
How would you like to have two free Blue Apron meals delivered right to your door? You can! Our first 50 readers can redeem their meals here (first-time customers only).