It's Sunday night and, like millions of workers and students across the land, you're once again rummaging through a cluttered refrigerator looking for something appetizing to pack for tomorrow's lunch. Or worse, it's Monday morning, and you're grabbing whatever you can find—often predictable and boring, and not necessarily nutritious.

If this sounds like you, perk up! With just a bit of planning, you can pack a lunch with both nutrition and pizzazz. Try these tips to make your lunch-to-go filling and fun:

Pick a variety of foods. Include items with fiber, such as fruits, vegetables, whole grains, and crackers. Try to incorporate foods from at least three of the four major food groups: dairy, protein, fruits and vegetables, and bread and grains.

Choose healthier alternatives as much as possible. Go for less processed foods, which are lower in sodium, fat, and sugar. For example, a fresh apple is better than apple juice or apple pie; a turkey sandwich is leaner than a high-fat, bologna sandwich. When choosing chips or other salty snacks, go for baked rather than fried.

Convert leftovers into healthy lunch items. Last night's pork roast can be cut up into chunks, then mixed with rice and vegetables for a satisfying midday meal. Access to a refrigerator and a microwave mean even more choices: you can have soup (look for low-fat, low-sodium brands or bring your own healthy homemade) or a salad with such touches as apples, raisins, sunflowers, nuts, jalapeño peppers, chickpeas, beans, cauliflower, corn or other vegetables.

Think both thirst and nutrition when it comes to beverages. Low fat or skim milk boasts protein, calcium, and riboflavin; fruit juices (look for 100 percent juice) have various vitamins and minerals as do vegetable juices, but beware—they're often saturated with sodium. Likewise, beware of sugary fruit drinks (whose vitamins comes from fortification). But try not to forget that old standby, water—the healthiest drink of all. You can even boost your hydration by packing a low-calorie, broth-based soup as part of your lunch.

Break out of predictable patterns. The old sandwich, chips, and cookie combo is a hard routine to break. Instead, vary the items you pack from each food group. Instead of basic white bread, for example, try bagels, rolls, tortillas, pitas, English muffins, or multigrain bread. For meat, swap a veggie sandwich made with green onions, carrots, artichokes, or cucumber slices. Vary condiments and spreads too—try yogurt or hummus spreads, which not only have high nutritional value but are also a tasty change of pace.

Pamper your taste buds. If the thought of plain produce makes you cringe, try pairing raw vegetables or fresh fruits with appealing condiments, such as yogurt or ranch dip, cream cheese, etc.

Avoid prepackaged cheese-and-crackers and similar treats. Besides being overpriced, they're generally high in sodium, fat and calories. Instead, create your own! This way you know exactly what you're getting, and you can choose healthier versions, such as wheat crackers.

Making your midday meal a healthy one can be a challenge, especially if you're stuck at the office. But with a little planning and a dollop of creativity, you can enjoy a nutritious break—one that'll fuel you throughout the rest of your hectic day.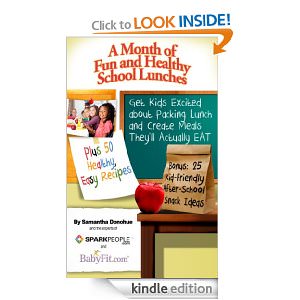 Want to get kids off to a healthy start this school year? So does SparkPeople! With "A Month of Fun and Healthy School Lunches," you'll end the food fight and get kids excited about packing lunch--with fun yet simple meals they'll actually eat. Written by a mother of three, with 50 easy and healthy recipes plus plenty of ideas tested by real moms in real life, this e-book turns lunchtime into fun time! Bonus: You'll also get 25 healthy, kid-friendly after-school snack ideas! Click here to check it out!