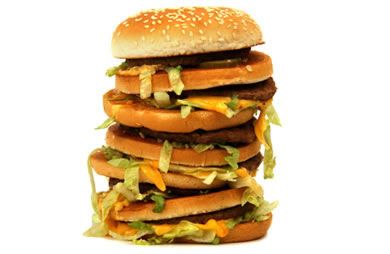 Editor's Note: After much deliberation, food writer John "Mr. Bad Food" McGran has come up with the "best" of the worst foods he's reviewed over the past year.

Here there are in his words (in no particular order)—the worst foods of the year!
| | |
| --- | --- |
| 1. Carl's Jr. Western Bacon Six Dollar Burger | |
I'm an East Coast kind of guy, but I realize there are no boundaries when it comes to bad foods. So, for this review, I took the advice of 19th Century newspaper editor Horace Greeley who urged, "Go west, young man, go west."

The Western Bacon Six Dollar Burger will gun you down with 1,130 calories (600 from fat), 66g fat (100% of your Daily Reference Value), 28g saturated fat (140% DRV), 150mg cholesterol, 2,540mg sodium (110%DRV), 83g carbs, and 47g protein.

I'm beginning to understand why it's called the Wild West! Sorry boys, but I'll take the 3:10 to Yuma… and then the next plane to good old Philly, land of cheese steaks and soft pretzels over this one!

| | |
| --- | --- |
| 2. Pizza Hut Double Deep Pizza | |
These Double Deep Pizzas are handcrafted by loading an entire pizza with twice the toppings of a medium pizza, plus 50% more cheese and then wrapping the crust over the top to hold all the toppings in.

I tried two slices of the Meaty variety. According to the Pizza Hut Website, I also opted for 1,160 calories, 72g fat (110% of your recommended Daily Value), 28g saturated fat (140% DV), 3g trans fat, 200mg cholesterol, 3,980mg sodium (166% DV), 62g carbs, and 62g protein.

In all fairness, the suggest serving is one slice (1/8 the medium pie) but who eats a single slice? Not me.


| | |
| --- | --- |
| 3. El Monterey XX Large Chimichanga | |
While shopping at Wal-Mart here in Northeastern Pennsylvania, I noticed Spicy Red Hot Beef & Bean Chimichangas in a cooler near the deli. They looked suspiciously like my 3-for-a-buck burritos of yesteryear—only bigger and a tad more costly.

While a standard burrito wraps a filling of meat, beans and/or cheese in a flour tortilla, a chimichanga is a meat-filled tortilla…deep-fried.

The key words "deep-fried" may explain why my mushy 10-ounce XX Large Chimichanga did a Mexican fat dance on my diet to the tune of 920 calories, 57g of fat (15g saturated, 1g trans fat), 40mg cholesterol, 1,140mg sodium, 83g carbs, and 22g protein.

Continued ›
Article created on: 1/8/2007