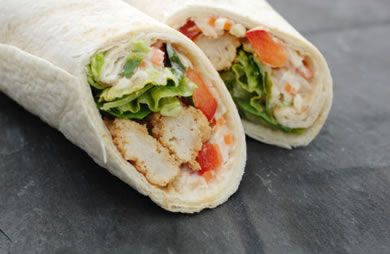 When you are on the go, you need to get things done and get them done now. Unfortunately, for some people, this means everything is done "on the go." However, just because you live your life in the fast lane doesn't mean that your eating habits have to stay there, too.

Today more than ever, fast food restaurants are trying to jump on the bandwagon of society's push to live a healthier lifestyles by advertising low-fat and healthier options on their menus. Take advantage of this! Obviously, the best and most effective ways to maintain a healthy lifestyle are by exercising and maintaining a nutritious diet, but everybody knows there are those times when you are forced to grab your grub from the drive-thru. So the question is, how can you eat fast and healthy?

The first of two ways you can cut down on your fat and calorie intake is by ordering salads or grilled, not fried, sandwiches. Fast food chains McDonalds and Wendy's both offer a variety of healthy and tasty salads on their menus, all under $4. If you are not in the mood for crisp veggies, then try McDonalds' grilled chicken sandwich with only 10 grams of fat and 230 calories or the Jr. Hamburger from Wendy's with only 9 grams of fat and 270 calories, both under $2.
Continued ›
Article created on: 11/13/2003