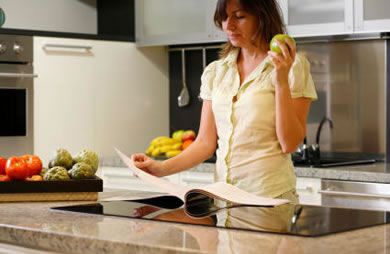 When it comes to cooking and eating healthy foods, you might not reach your goals if you're following a plan that goes against your true nature and personality. If you're spontaneous, then meal plans might make you feel stifled, while an outgoing personality won't stick to a diet plan that involves cooking a lot of meals solo, for example. If you're struggling to make a healthy diet work for you, then reach for the stars! Check out these healthy eating horoscopes that will give you pointers based on the nature of your astrological sign.

Aries: March 21 – April 20
Aries are known for taking initiative. So don't wait any longer! Learn more about proper nutrition and craft the perfect plan for you. If you're craving pomegranates but your local produce section is sorely lacking, talk to the manager. If you want them, lots of other people probably want them too. As an idea person, you can take a little bit of this and a little bit of that that from your cupboard to create a new recipe. You may discover a new family favorite! You are all about inspiration and imagination, so if your meals are getting a little boring, mix things up by adding some new, exotic ingredients to your menu. Experiment with ethnic spices, instead of relying on the same meals week after week. You might find you're satisfied with less on your plate if what you eat is extra flavorful.

Taurus: April 21 – May 21
The physical, sensual side of life is very important to the Taurus, and meals are one way to express that sensuality. Good food and good wine are as essential as air to you, but don't let yourself get stuck in the high-fat trap. Wean yourself off full-fat milk and cheeses to save hundreds of calories without sacrificing flavor. Nurture your earthy side by planting your own vegetable garden and enjoying fresh, homemade soups and salads, with ingredients grown with your own hands. While some people might find you bull-headed, your reputation for being stubborn can be a good thing—you won't give up on your weight loss goals, even if they're taking longer than you expected.

Gemini: May 22 – June 23
As a Gemini, you value the thought process, so put on your thinking cap this week and design a meal plan you can stick with. Let go of your need to follow a diet perfectly—adjust it to suit your palette. Satisfy your analytical side by keeping a food journal to assess your dietary habits. If you're eating more calories than you thought, switch to a smaller plate for instant portion control and stop reading at the table—you need to pay attention while you're eating. You're interested in people around the world, so indulge your curiosity by learning about French cuisine and then whip up a meal fit for a king!

Continued ›
Article created on: 5/1/2007