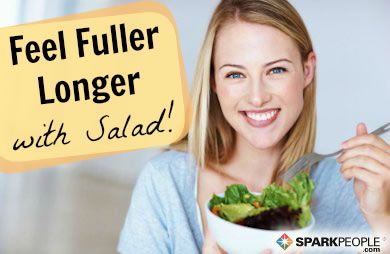 A recent study had 42 women eating lunch that consisted of a first course salad and a pasta entrée. The salads they ate varied in both the calorie content and the portion size, but all contained lettuce, carrots, tomatoes, celery, cucumber, and Parmesan cheese. The amount and type of cheese and salad dressing was varied to alter calorie amount. Here's what researchers found:

Women who started lunch with a "low calorie" salad consumed 7% fewer calories during their meal.
Women who ate the small or large portion of "high calorie" salad increased the total calorie intake of their meals increased by 8% and 17%, respectively.
The most effective approach for controlling calories was eating a large portion of "low calorie" salad before the main entrée. This approach increased fullness while decreasing the total calorie intake of the meal by 12%.
Action Sparked
Eating a salad before your meals does more than help you meet your daily veggie quota. Starting with a salad may be an effective tool in helping you decrease your total calorie consumption during lunch or dinner, which can help you manage your weight. But watch your portions and avoid high-calorie salads full of too many extras like bacon, cottage cheese, mayo, and high-fat cheese or dressings.

To start your meal, I recommend a 100-calorie salad. Enjoy 1-2 cups of a low-calorie lettuce and veggies, such as Romaine or leafy greens, onion, radishes, carrots, celery, cucumbers and tomatoes (totaling 25-50 calories); 1-2 Tablespoons of low-fat cheese (25-50 calories); and 1-2 Tablespoons of low-fat or fat-free salad dressing (25-50 calories). This combination will fill you up and increase satiety.
Article created on: 9/12/2006