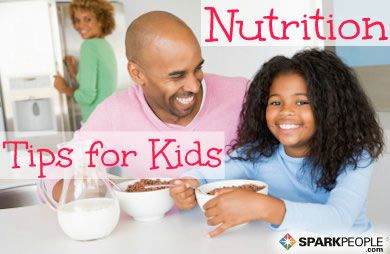 Believe it or not, the nutritional needs of children have not changed in the last 20 years. However, the world they live in certainly has. It is quite a different childhood experience for kids and teens, with fast food restaurants on every corner, big-gulp colas, 50 or more TV channels to surf, text messaging, mall hopping, video games, and iPods. It is important that we update our parental nutrition lessons to help them form the best possible eating habits for life in the 21st century.

If you've mastered Lesson 1: Blueprint for a Healthy Diet, then you're ready to complete your nutrition course in Part 2 of this series, which includes Lessons 2, 3 and 4.

Lesson 2: Breakfast is mandatory
When morning rolls around, your child has gone without food for eight or more hours. Do you plan on sending her out the door without eating until lunchtime? No way! Studies show that children who eat breakfast are more alert—learning and performing better in school—than children who don't eat in the morning.

Children who see their own parents eating breakfast are more likely to eat breakfast themselves. Remember, you need breakfast too! Feed your family's brains and power their bodies with these quick and easy breakfast ideas that will please everyone at the table:
Ready-to-eat cereal with fruit and milk (Learn about the best—and worst—choices by reading Breakfast Cereal Scams.)
Toasted bagel with cheese
Fruit-filled breakfast bar with fruit and yogurt
Fruit smoothie
Peanut butter on whole-wheat toast
String cheese with rye crisp crackers
Read Healthy & Quick Breakfast Ideas for more ideas.
Continued ›
Article created on: 6/14/2006