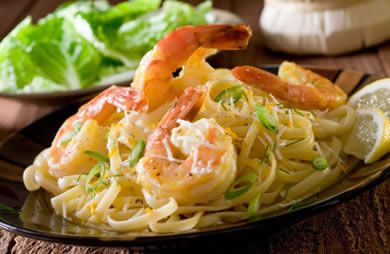 Characteristics:

These simple menu items have lots of flavor. Portions in the U.S. are often double those served overseas. Many dishes are very high in fat and calories, so diligence is a must.
---
Common Ingredients:

Entrees are often dripping with cheese and heavy with meat. A variety of pastas, breads and tomato-based and creamy sauces dominate the menu. Olive oil is used in many lighter Southern Italian dishes, while Northern Italian cooking often features more butter.
---
Hidden Dangers:
Antipasto is generally a collection of cheeses, smoked meats like salami, olives and marinated veggies, so it can be very fattening.
Avoid ordering "extra" pizza ingredients from the following list: extra anchovies, sausage, pepperoni or cheese.
Pass up dishes with a lot of high-fat cheese, such as lasagna, veal parmigiana and cannelloni.
Pesto and antipasto can be very oily.
Sauces should be used sparingly, as they can be high in sodium and potassium, which could cause problems for kidney, liver and heart patients.
Olive oil, though a good source of healthy fats, is high in calories; watch your portions when dipping bread or choosing dishes that contain this oil.
Stuffed Mushrooms sound healthy, but usually contains cheese, sausage and cream
Bruschetta may seem healthier if loaded with tomatoes, but 1 piece can carry 240 calories and 20 grams of fat.

Watch for these words:

Alla Crema (with cream)
Alfredo (cream sauce)
Fritto (fried)
Parmigiana (breaded and fried)
Scampi (drenched in garlic olive oil or butter)
Panfried
Crispy

Tortellini (20 pieces): 530 calories and 20g fat.
Chicken Parmigiana: 1,000 calories.
Fried Calamari: 1,077 calories, 53g fat.
Meat Lasagna: 625 calories, 37g fat.
Pasta Carbonara: 1,200 calories, 60g fat.
Continued ›
Article created on: 3/17/2006