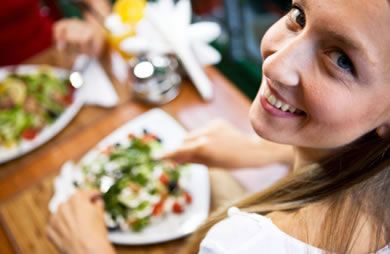 It's almost impossible to drive down the street today without being ambushed by a few themed restaurants and fast-food joints ready to throw a burger down your throat and ruin your best nutritional intentions. But in this ruthless wilderness, you can still discover some hidden healthy treasures. Here are some that we've dug up. If you find ones you like, share them with others by adding a comment to this article!

Applebee's
Low-POINT appetizers, desserts and entrees for dieters
Burger King
Chicken baguette sandwiches have just 350 cals and 5g fat.
Chili's
• "Guiltless Grill" selections are lower in fat and list nutritional information right on the menu.
Chipotle
Instead of Chicken Burrito (1179 calories, 47g fat), try a Burrito Bol w/chicken, minus the rice, cheese, and sour cream (369 calories, 12g fat).
Fazoli's
You make your own pasta bowl, controlling the ingredients you want to include or eliminate.
You can also substitute whole wheat pasta.
Jack in the Box
Chicken Fajita Pita is filling with only 10 grams of fat. Leave the shredded cheese out and make it 3 grams.
Skipping the mayonnaise or mayonnaise-based sauces can skim 100 or more calories and 12 grams of fat. Or use the Low Fat Herb Mayonnaise, with only 4 grams of fat.
Olive Garden
Restaurant encourages you to choose whole wheat linguine with your pasta selection. Whole wheat pasta has three times more fiber and roughly 17% fewer carbohydrates than traditional pasta.
Continued ›