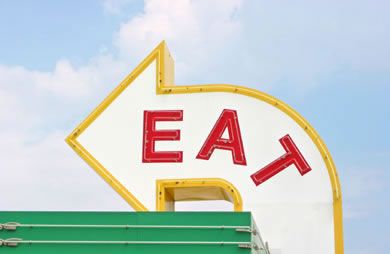 We spend more money and waste more calories by dining out than ever before. The US Department of Agriculture estimates that we eat 29% of our meals away from home. And the National Restaurant Association says that these meals take up 44% of our food budgets. This could grow to 53% in the next few years.

As if it's not already, eating out is about to become a bigger and bigger dieting challenge. Sticking to your guns away from home is hard for many reasons. They all seem to boil down to this dilemma: How can you possibly have control of your diet when you don't control your eating environment?

But here's the surprise—you CAN control your environment, no matter where you eat! You are the customer and you are in charge. From the time you pick up the car keys to the time you pick up the check, only you can decide whether to take a simple step forward or allow yourself to be coaxed (and yes, sometimes even manipulated) into busting your calorie budget.

Here are some ideas and strategies that will help you take charge of your next culinary adventure, every step of the way:

1- Choosing a Restaurant
2- Before Leaving the House
3- When You Sit Down
4- Ordering Up
5- Appetizers
6- Soups & Salads
7- Entrees
8- Side Dishes
9- When the Meal Arrives
10-Desserts

1) CHOOSING A RESTAURANT
Eating healthy while eating out is all about one word: preparation. If you go into a restaurant cold, without any thought, you'll be more susceptible to the creamy, the fatty and the gooey before you can prepare your defenses. Give yourself a chance by giving yourself options.

Avoid "all-you-can-eat" places. More diets go here to die than any other type of restaurant.
Choose a healthy restaurant near me with a varied menu. It'll make it easier to find something healthy and to your taste.
Don't decide to eat out on the spur of the moment, if possible. It's best to make plans and account for it during the rest of the day's menu planning.
Fish restaurants and restaurants with extensive salad bars usually have healthy options available.
Try to avoid restaurants that promote "entertainment" eating, where the food is one of several attractions. This usually means the menu is choked full of fried, fatty and huge dishes.
Any restaurant with a mascot is probably bad news.
2) BEFORE LEAVING THE HOUSE
Sometimes, the battle is lost before we even open the door. Know what you're getting yourself into so you're not surprised later or forced to choose between two deep-fried evils. All it takes is a few minutes.

Go to the restaurant's website to find a menu (or have them fax one to you) and study it.
Decide what you want to eat before you leave the house. Is this a chicken night or are you craving pasta? If possible, choose a specific menu item so you're not tempted by the menu at the restaurant.
Make reservations. This cuts down on waiting and hunger time at the restaurant, as well as the number of drinks you have at the bar.
While making reservations, check on preparation methods and their ability and willingness to accommodate your requests. Learn what options you have and what substitution choices are available.
Try to reserve a table away from the kitchen so piles of delectable dishes aren't paraded by as you're deciding what to eat.
Know what you can afford to spend out of your calorie budget – but don't starve yourself, it'll only court temptation.
Don't leave the house hungry. About 1-2 hours before eating, have a small, healthy snack (apple, small salad) to avoid pre-meal munching later.
Bring along some whole wheat or rye crackers and packets of your favorite low-calories salad dressings. Don't count on the restaurant to always have the ones you like.
3) WHEN YOU SIT DOWN
This is a critical point that sets the tone for the rest of the evening. It's when much of our mindless munching happens, we can see and smell the food all around us, and we're usually at our hungriest. If there were ever a perfect time to take charge of your experience, this is it. Get off on the right foot.

Start by politely sending back those free munchies that show up right away. Bread baskets, rolls, tortilla chips or Chinese noodles can be bottomless pits of calories. Not to mention all of the butter that usually comes with them.
If you need to munch a little to ward off hunger, ask the server if something else is available. They might have rye or whole wheat bread or rolls, melba toast or whole wheat crackers instead.
Ask if there is a lower-fat alternative spread instead of the butter. If not, plain rolls aren't so bad.
Choose salsa over con queso or other cheesy dips.
Order water right away and start sipping. Much of what we mistake as hunger is often merely thirst.
A glass of spicy tomato juice or vegetable drink can bridge the hunger gap.
Dessert menus, with huge, tasty close-ups of caloric landmines are on the table for a reason. Even if it's a tabletop display, give it to your server.
Continued ›
Article created on: 3/13/2006