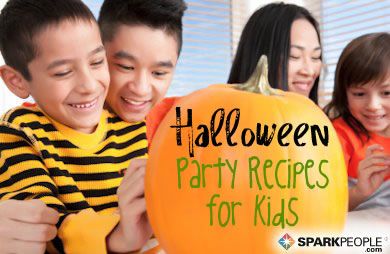 Attention, all classroom moms, 4-H dads, Scouting parents, and Halloween planners! Are you in desperate need of some tasty, ghoulish snack ideas for your child's Halloween party? Then check out the recipes below. To keep those little monsters busy, have them make Dracula's Blood and Doggie Poop! Yes, it sounds YUCKY, but they are crowd pleasers! (Each of these recipes has been kid-tested and parent-approved.) You may even want to use these ideas at your own Halloween bash!
Black Caldron and Carrots
Mix black food coloring into ranch salad dressing until desired color is achieved. Pour into serving bowl. Serve with mini carrots.
Note: Substitute green food coloring for a slimy-colored dip. Serve with a variety of raw vegetables.
Sticks, Stones, Brains, and Bones
2 cups toasted oat cereal
2 cups pretzel nuggets or sticks
1/2 tbsp dry Italian salad dressing mix
In a large roasting pan, combine popcorn, cereal, pretzels and peanuts. Mix together. Heat for 5 minutes in a 300-degree oven. Remove. Drizzle with margarine. Sprinkle on cheese and salad dressing mix. Stir to coat all pieces. Makes 9 cups.
Creepy Crawly Ice Ring (recipe follows)
2 three-ounce packages lime-flavored gelatin
1-1/2 quarts carbonated lemon-lime beverage, chilled
Prepare Creepy Crawly ice ring and freeze until solid. Pour boiling water over gelatin in heatproof punch bowl. Stir until gelatin dissolves. Stir in cold water. Add lemon-lime beverage. Stir well. Remove ice ring from its mold and float in punch.
Makes 10 one-cup servings
Continued ›
Article created on: 10/25/2005