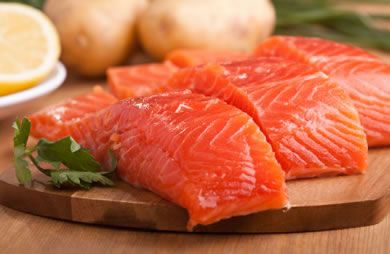 Take heart, fish lovers! While the safety issues surrounding the consumption of fish are legitimate, don't let them spoil your seafood catch.

The Benefits
There are many health benefits from eating seafood. It is an exceptional source of high quality protein and essential vitamins and minerals, but is generally low in calories, saturated fat and sodium. Many varieties of fish contain the very beneficial polyunsaturated fat called Omega-3 fatty acids, which help fight heart disease and stroke by lowering blood pressure and triglycerides. New research is beginning to show that these healthy fats may also reduce the pain and inflammation associated with arthritis, asthma and colitis, as well as help treat depression and bipolar disease.

The Dangers
For most individuals, commercial fish and recreationally caught fish are safe to eat. However, many fish contain varying levels of substances that are thought to be toxic to the body. These substances include polychlorinated biphenyls (PCBs) and methylmercury (MeHg).

According to the US Department of Agriculture, farm-raised salmon have a higher overall fat content than wild salmon, yet both varieties are similar in Omega-3 content. Since farm-raised salmon contain more fat, they may be contaminated with more PCBs and other pollutants and pesticides. Farm-raised salmon are also fed fishmeal that may be contaminated with PCBs.
Methylmercury occurs naturally in the environment and nearly all fish contain traces of it. Larger fish, such as swordfish, shark, king mackerel and tilefish contain the highest amounts.
Continued ›
Article created on: 6/22/2005