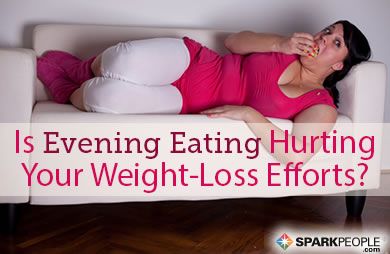 Balanced breakfast? Check
Mid-morning snack? Check
Healthy lunch with your co-workers? Check
Passing up your friend's homemade cookies? Check
Coming home in the evening and going on a feeding frenzy? CHECK!!

Does this sound like the bulk of your days? You're in control, everything is going fine - until you come home starving at night and eat a large dinner, say yes to dessert (and seconds) and finish off a bag of chips before bed. What gives?

From a metabolic standpoint, there is really no reason not to eat food in the evening. A calorie is a calorie regardless of when it is consumed. A morning calorie is metabolized in basically the same way as an evening calorie. However, eating in the evening is a problem for many, not because of the way food is metabolized, but because of the quantity of food that is often eaten.

Skipping meals and becoming overly hungry by evening can lead to nighttime binge eating. Recent studies revealed that when people ate three meals a day only 13% binged. When people skipped breakfast, 24% binged and when people skipped breakfast and lunch, 60% binged. In general, people who spread their meals throughout the day seem to be better able to control their eating. They are less likely to feel hungry and less likely to overeat. So by eating breakfast, lunch, and dinner and planning snacks in between, you can help yourself lose weight as well as maintain better control of your eating throughout the day and night.

For most people, the evening is "down-time," used to relax, watch television, and unwind from the stresses of the day. Others view this as a time to multi-task and catch up on household chores, bills, homework, and other responsibilities. Whether you're winding down or checking off your to-do list, unconscious eating can accompany your routine and result in a massive calorie intake. Devouring a bag of chips, a sleeve of cookies, or a pint of ice cream can occur when your mind is somewhere else.

The Role of Sleep
Consuming a large amount of food before bedtime can also result in indigestion and sleep problems, which can trigger you to eat more during the proceeding days. A growing body of research suggests a connection between obesity and lack of adequate sleep. Statistics show that overweight individuals sleep about 1.8 hours less a week than people of normal weight. Since the 1960's sleep duration for American adults has dropped by as much as two hours a night, while obesity has drastically increased.

Sleep is a regulator of two hormones that effect appetite, leptin and ghrelin. Leptin helps suppress food intake and stimulate energy expenditure, while ghrelin stimulates appetite, fat production, and body growth. When one is sleep deprived, the level of leptin drops and the level of ghrelin increases. The result is a drastic increase in hunger. One study reported a 24% increase in hunger, with excessive, uncontrollable cravings for calorie and carbohydrate packed foods such as cookies, candy and cake. It can all add up to a vicious cycle of late night binges, lack of adequate sleep, uncontrolled snacking, late night binges, and so on.
Continued ›
Article created on: 4/13/2005