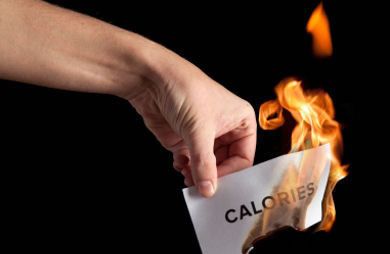 1. What is the most common misconception about calories?
I'd say it's the belief that calories from different foods are worth more or less. It's true that fats are higher density in calories than protein or carbohydrates. But in the end, all that matters is whether your body needs those calories or not. If your body has met all of its immediate energy and energy store needs, those extra calories will be turned to fat whether they came from a tomato or a Tootsie Roll. You could eat no junk food at all, but if you wolfed down 3,000 calories worth of fruits and vegetables, you'd still gain weight. That's why it's so important to pay attention to calorie totals, both of what you eat and what you burn. If those numbers are in line, you should be fine. Of course, it's still essential to get calories from a balanced diet so you get all the nutrients you need.

2. Suppose someone has cut calories, but still hits a plateau. Is it possible that she may need to eat more calories to lose weight?
It's possible. If you're not eating enough, your body sort of panics and goes into what's known as starvation mode, slowing down your metabolism and fat-burning processes. If it's being starved of calories, it has to hold onto all of the energy stores and calories that it can. Think of your body as a furnace. If there's not enough fuel, the fire just simmers for a long time without really burning hot. If you're not eating enough calories to match your activity level, your body just simmers and no real progress is being made. The danger is that people react to this type of plateau by eating even less, which of course just makes the problem worse and harder to recover from. It's a horrible cycle that can lead to real problems.

3. How many calories do people need to eat?
That's the million-dollar question, isn't it? You're going to hate me when I say that it depends. There are three factors involved: Your weight loss goals, your Basal Metabolic Rate (the number of calories your body burns via normal, everyday functions), and how much exercise you get. First, calculate your BMR. Next, consider how much activity you get. Add the calories you burn through activity and exercise for one day to your BMR. This is your baseline for daily calorie needs. To lose 1 pound per week (if that's your goal), you'd simply eat 500 calories less than this number each day. Whatever your baseline is, more than 1,000 calories per day below that (resulting in 2 pounds lost per week) is not a good idea. Your body needs enough nutrition and energy to deal with whatever exercise level you choose. At bare minimum, no matter what, I strongly urge women to not drop below 1,200 calories daily and men to not drop below 1,500 calories daily. Any lower than that and starvation mode – or worse – will almost always kick in.

Continued ›
Article created on: 3/9/2005