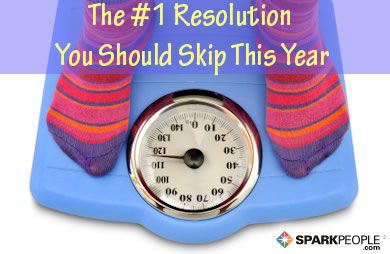 Do yourself a favor this year…Do NOT resolve to lose weight.

Instead, pick two or three habits (encourage healthy eating and improved fitness) that could easily result in weight loss. Don't know what to focus on? Well you have just enough time to find out. For the next week, faithfully use the Sparkpeople Food and Activity Tracker. Record the following:

The food (and how much) you eat – Weigh and measure everything
Every beverage you drink (juice, pop, coffee, tea, water, diet beverages)
When the eating episode occurred (the time you started and finished eating)
The location of the eating (kitchen, family room, restaurant, etc.)
Who did you eat with? (friends, relatives, yourself, co-workers, alone)
How you felt while eating (happy, sad, bored, depressed)
Any exercise you did
Once you have finished your record keeping, it is time to analyze the data. Hopefully you will make some startling discoveries about yourself and be ready to make some really informed decisions regarding the changes you will make in 2007.

Analysis #1: Do you meet your nutritional needs?
Are you getting 2 low-fat dairy products daily?
Are you consuming 6 ounces of lean meat or protein sources daily?
Are you getting 5 servings of fruits and vegetables daily?
Are you receiving 4-6 whole grain products each day?
Sparkstep: Including a variety of foods in your diet daily will provide your body with the numerous benefits of over 50 different nutrients. Keeping your body energized and strong will help you to stay motivated and encouraged. For many, using the Food Tracker on a daily basis and sticking to a calorie goal is extremely beneficial to weight loss.

Analysis #2: How are your foods prepared?
How many foods are fried?
How many foods are breaded?
How many food items are covered with a sauce?
How many servings of sweets do you have daily?
How many food items come from a box, package, or can?
Sparkstep: Overloading your body on these types of food can add unwanted fat, cholesterol, salt, sugar, and calories to your diet. Some small changes in this area can benefit not only your weight but also help lower the risk of heart disease, certain cancers, diabetes, and high blood pressure.

Analysis #3: What beverage choices are you making?


How much water are you drinking daily?
How many cups of tea and coffee do you consume?
How many cans of diet drinks to you have?
How many sugar-sweetened beverages do you consume daily?
How much 100% fruit juice do you get each day?
Sparkstep: Keeping your body hydrated is key to your health. Try to drink 8-12 cups of water daily. 100% juice does contain some nutritional benefits, but the fiber has been removed, therefore, limit yourself to 1/2 Cup daily. Sweetened juice drinks, punches, fruit cocktails are loaded with sugar and unwanted calories, so avoid these whenever possible. Coffee, tea, and diet beverages are not the best sources of fluid for the body and should be used in moderation. Limit these to 1-2 choices daily.
Continued ›
Article created on: 12/29/2004