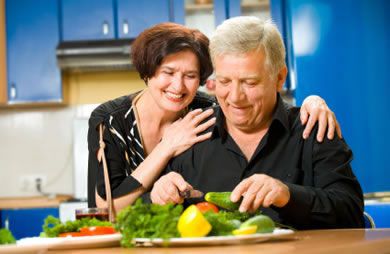 You open the fridge and panic sets in. The cupboards elicit a similar response. Same for the pantry. You have no time and have to come up with dinner – and fast. But what will satisfy your hunger without requiring an hour of prep time? In the final hope that something new and exciting will appear, you open the fridge door one last time.

Take a moment, take a deep breath and relax. Before you speed off to the drive-thru as an "easy" solution to fixing dinner, consider this: there are countless "Go-To" Meals that will make cooking swift and simple. When you're at a loss for time and ideas, you can turn to these without much thought.

Go-To Meals allow you to put in minimal effort while maximizing taste and nutritional value. These meals are quick, easy, and can be a staple in your diet. Only a few ingredients are required, so preparation and clean-up don't cut deeply into your hectic schedule.

To create your own Go-To Meal, start with a few of your favorite ingredients. You'll learn to depend on them when you're in a time crunch. On your next trip to the grocery store, stock up on easy foods that you can whip up in minutes.
Continued ›
Article created on: 6/24/2004