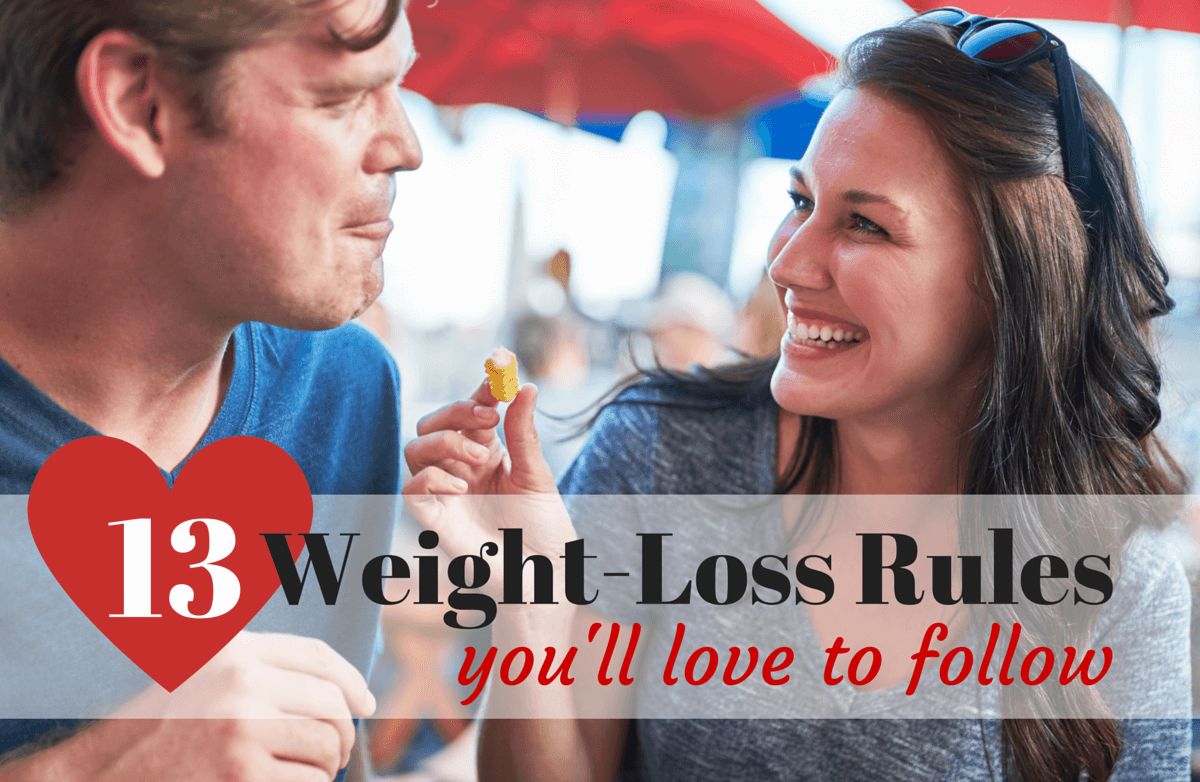 Seeing the words "diet" and "fun" in the same sentence might seem like an oxymoron. When we decide to lose weight, ideas of deprivation, boredom, sacrifice and even misery usually come to mind. But they don't have to. Weight loss CAN be fun and enjoyable—if you have the right attitude and set out on your journey with the right tools—and rules—for long-term success.


Research shows that what we tell ourselves is a predictor of results. A positive mindset greatly increases one's chances of success, and when we make the journey towards any goal enjoyable, we achieve it with greater speed and stick with it for the long haul.

So throw out the "dieting" rules that make you feel deprived and bored. To start, follow these rules of weight loss that not only work—but actually make the process more fun! And whatever you do, focus on enjoying the journey, not just reaching your destination.


Weight-Loss Rules You'll Love to Follow


1. Eat more often. Out-of-control hunger is a common predictor of overeating—and giving up on any diet. When you go too long without food, your blood sugar drops, your mood and focus plummet, and you often grab the easiest thing you can, which usually isn't healthy. Instead of skipping meals and starving yourself, don't go more than 3-4 hours without eating. This will keep your hunger monster at bay and keep you happy and satisfied on your program.

2. Treat yourself. When you decide that a particular food (or even an entire food group), is off limits for your diet, research shows that we focus on that one food even more than if we simply allowed ourselves permission to eat it from time to time. If you told me I could never eat cookies again, I probably wouldn't be able to stop thinking about how much I like cookies and would feel miserable that I couldn't have them. Since willpower is in such short supply in humans, there's a really good chance that anyone would cave in eventually—and likely go overboard. So give yourself permission—and make a plan—to make room in your diet for your favorite treats.

3. Stop searching for the best workout. What's the ideal workout for weight loss? The workout you'll actually do—not the one that worked for your friend, or that you heard burned the most calories. Research shows that if you can match the exercise plan to your preference and personality, you'll be more consistent. If you pick what works for others or what you perceive is best despite not enjoying it, you're setting yourself up for failure. When you find something that is fun, who cares how many calories it burns. In the end you'll burn the most calories when you stop making excuses to avoid a workout and actually want to do an activity!

Continued ›