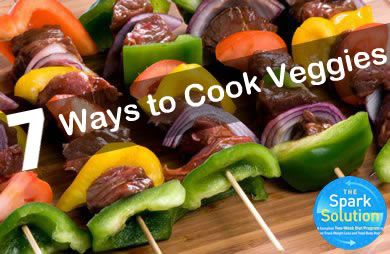 Are you a creature of habit in the kitchen and at the grocery store? Do you reach for the same carrots and celery for snacks, bagged greens for salads, and frozen veggies for dinnertime sides? It's time to break out of your food rut. Learn a few basic cooking techniques, then head to the produce aisle and pick out something new. With very little time and effort, you can create crave-worthy veggie side dishes every night of the week.

Note: The smaller you cut your vegetables, the faster they will cook. Aim for bite-size pieces unless noted below. No matter how large or small your pieces are, be sure they are the same size to avoid uneven cooking.

For each cooking technique, you'll need four cups prepared vegetables to yield four servings. If you're cooking for fewer people, you can adjust the amounts or save extras for future meals.

Stir-fry

How to: Add 2 teaspoons olive oil to a skillet set over medium-high heat.
When the pan is hot, add the chopped veggies.
Cook, stirring often, until the veggies are tender yet crisp.
For flavor add one of the following:
1/4 teaspoon salt-free seasoning blend
1 teaspoon minced garlic or ginger
low-sodium soy sauce or
miso paste
Good for: bell peppers, onions, broccoli, cauliflower, asparagus, snow peas, celery, green beans, cabbage and carrots
Tip: Add "harder" vegetables such as broccoli and green beans first, then softer veggies like onions and peppers.
Roast
How to: Preheat the oven to 425 degrees.
Cut your vegetables into uniform pieces.
Spread the vegetables in a single layer on a baking sheet.
Drizzle on 2 teaspoons oil, sprinkle with pinch of salt and pepper, and 1 tablespoon dried herbs.
Roast, stirring halfway through the cooking process:
10-20 minutes for quick-cooking veggies
20-30 minutes for long-cooking veggies
Good for:
Quick-cooking vegetables: mushrooms, bell peppers, zucchini, summer squash, broccoli
Long-cooking vegetables: sweet potatoes, white potatoes, carrots, turnips, butternut squash, and parsnips, cauliflower, Brussels sprouts
Veggie Casserole
How to:
Preheat the oven to 350 degrees.
Coat a baking dish with a tight-fitting lid with cooking spray.
Add your vegetables, chopped into uniform pieces.
Add flavor with:
2 teaspoons purchased pesto or
2 teaspoons dried basil, oregano, parsley, thyme or rosemary
Cover and bake at 325 degrees for 20-30 minutes, until the vegetables are tender.
Good for: carrots, broccoli, cauliflower, bell peppers, green beans, onions, celery, cabbage

Faux Fry
How to:
Preheat the oven to 375 degrees and lightly oil a baking sheet.
Continued ›