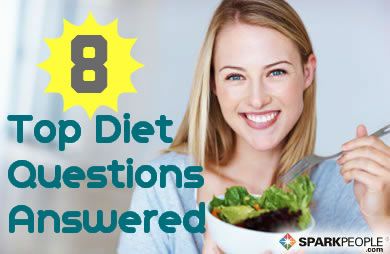 Your best friend has the "secret" to guaranteed weight loss. So does the star of your favorite TV show. Your doctor advised you to just "eat less and exercise more." Your neighbor thinks all you have to do is give up bread. No wonder you're feeling confused! Here we tackle eight common diet questions and sort out the truth once and for all.

1. How many calories should I eat so I don't go into "starvation mode?"
The amount of calories you need to eat to prevent your metabolism from slowing down (what people refer to as "starvation mode") will differ from person to person, depending on how much weight you need to lose and your genetics. Most women shouldn't eat less than 1,200 calories a day (1,500 for men) simply because it's becomes really difficult to get adequate nutrition (fats, carbs, proteins, vitamins and minerals) to maintain health at such lower calorie levels. In general, to lose weight at a healthy rate that won't harm your body (or sap your energy levels), you should aim for no more than 1-2 pounds of weight-loss per week. (A pound of fat is roughly equal to 3,500 calories, so you'll need to cut or burn 500-1000 calories per day.) SparkPeople.com makes all of this simple by giving you a personalized daily calorie range (plus food and fitness trackers, meal plans and more) to reach your goal weight. So register for your free online account or download our mobile app today.

2. Is there one food that I should absolutely avoid to lose weight?
The simple answer is no. "Remember that no single food causes weight gain," explains Registered Dietitian Becky Hand. "Weight management is based on total calorie intake—not the total restriction of certain foods, ingredients or food groups. All foods can fit into a healthy eating plan." Avoiding particular foods completely may cause you to crave them more, which could lead to binge eating for some people. For example, instead of banning chocolate from your life, you'll need to find a way to enjoy it in moderation, especially since you are likely to encounter the temptation of this food even if you don't keep it at home. The easiest way to do this is to find small portions that are individually packaged to prevent you from "reaching into the economy-sized bag" for more. Or, just get into the habit of putting anything you're going to eat on a plate and putting the rest of the package away to reduce the temptation to have "seconds." However, the biggest concern with cutting out whole food groups (think grains or dairy) is that you run the risk of eliminating essential nutrients from your diet that could actually make it more difficult for you to lose weight. While eliminating "non-essential" foods like soda, sugar, sweets and the like can help you lose weight and enhance your health, people lose and maintain weight loss and improve their health simply by cutting back on these foods rather than eliminating them entirely.

Continued ›
Article created on: 1/17/2012