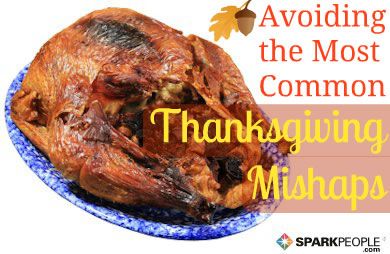 Even accomplished home cooks feel the pressure of preparing a big feast for family and friends on Thanksgiving Day. It's a perfect storm of anxieties: Beloved traditions, high expectations, a huge menu and a big crowd all add up to a stressful few days in the kitchen. Here are a few strategies for avoiding culinary mishaps. But if the potatoes are done too early or the gravy gets lumpy, relax. We can help you with that, too.

Avoid Problems in the First Place
Here's the best piece of advice we can share to ensure your Thanksgiving dinner is a success: Plan. (Or more specifically, plan, plan and then double-check your plan.) Two weeks beforehand, plan the menu. From there, assemble all your recipes. Then, make a shopping list.

Make as much ahead as you can. Plot out your cooking activities for the big day and—most importantly—the day before. Make yourself an hour-by-hour agenda that includes prep and cooking time for every recipe. What can be made ahead? Pies and cranberry sauce, for instance, can be completely prepared and baked the day before. Chop any vegetables for your stuffing, seal them in plastic bags (better than containers when space is at a premium) and refrigerate. If you're making stuffing with fresh breadcrumbs, prep those on Wednesday.

When you're plotting out your cooking agenda, consider baking temperatures, as well. If your dressing recipe calls for an hour at 400 degrees but the turkey roasts at 325, then anticipate that the dressing will take longer to cook thoroughly if you have it in the oven with the turkey.

Allocate enough time to thaw a whole frozen turkey. According to the experts at Butterball, you should expect 1 day of thawing for every 4 pounds of bird. If you wake up on Thanksgiving Day and discover that the bird isn't fully thawed, you fully submerge the turkey, in its unopened wrapper, in cold water (in a sink or large basin). Change the water frequently to keep the bird cool; estimate 30 minutes of thawing time per pound.

Allow enough time for roasting a turkey. Be sure to follow the recipe, your butcher's recommendations or the cooking instructions on the turkey packaging. Butterball's turkey pros say an 18- to 22-pound turkey will take 3.5 to 4 hours of roasting time at 325 degrees. Here's a great basic roast turkey recipe from SparkRecipes.

Give the turkey a head-start. You can roast the turkey earlier and keep it nicely warm for up to an hour: Remove the roasting pan from the oven and transfer the bird to a big platter or tray. Wrap very tightly with foil, and then cover with a heavy bath towel until you're ready to carve and eat.

Whether you're a veteran of Thanksgiving meal preparation or this is your first big feast, here's one more sanity saver: Ask for help. Graciously accept any offers from friends or family members who want to contribute a dish to the meal. And when guests arrive on the holiday, don't hesitate to put folks to work in the kitchen. That's where people will want to hang out, anyway.
Continued ›
Article created on: 11/22/2011