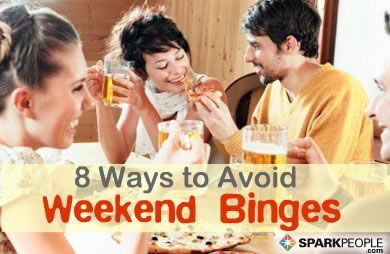 The structure of the work (or school) week can be extremely conducive to maintaining good eating habits. If you have a very predictable daily routine, it can be easier to plan meals and snacks and eat on a consistent schedule so that you never get too hungry. But when the weekend comes, all that structure disappears and leads many people into making unhealthy eating choices that can derail all the good effort from the previous week. But by recognizing the most common weekend food pitfalls, you can be prepared to make better choices and maintain healthy eating--no matter what day it is.

Weekend Pitfall 1: I'm not at home much, so I end up grabbing food from coffee shops and fast-food restaurants.
There are two solutions to this pitfall. First, think ahead and always keep a few healthy choices in mind at the restaurants in your area. (You can find loads of helpful information in SparkPeople's Dining Out Guide.) Most chain restaurant websites include nutrition information so you can look it up before you head out. Your second option is to buy a small cooler or insulated bag and some ice packs. That way, you can pack whatever food you might need during the day and stop for an impromptu picnic whenever it's convenient for you. It may seem weird at first to always bring food with you, but it's worth it since you never have to worry about getting too hungry or not being able to find a decent place to eat (no matter where you find yourself). Try some of these portable snacks that don't require refrigeration, and always keep some on hand in your purse, in your car and when you're on the go.

Weekend Pitfall 2: One cocktail with friends turns into three--and then I just eat whatever is around.
Alcohol lowers your inhibitions, making it more likely that you'll make poor food choices or simply eat when you're not really hungry. On top of that, research shows that we tend to mimic the eating habits of the people we spend time with, so if your friends are drinking and enjoying bar fare, you're more likely to do the same. That said, there's no reason to skip a drink with friends as long as you can stop at one. Wine is the most diet-friendly drink you can choose, plus it offers proven health benefits. To stretch your one drink to two, order wine mixed with seltzer water to create a spritzer. And no one will think less of you if you switch to seltzer with a slice of lime after your one cocktail. Another solution is to spend more time with friends who eat the way you want to or are also trying to manage their weight. Their good habits and lack of pressure and temptation can rub off on you, and you can support each other's diet efforts no matter where you are.

Continued ›