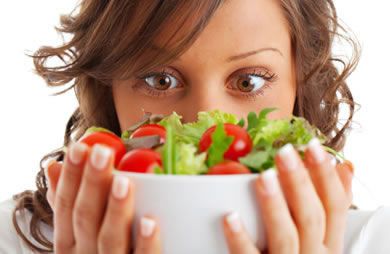 All of us are striving to cook in a way that's healthy and simple. Unfortunately, healthy and simple can sometimes add up to bland: A plain piece of broiled fish or baked chicken isn't particularly exciting, right?

The remedy for the healthy-but-boring dilemma is easy: Stock your pantry with a few strategic items that consistently bring a little "spark" to your cooking without adding significant cost or calories. Start with great basic ingredients, prepare them simply, and then add a punch of flavor to really elevate the dish.

Add flavor without all the fat by trying these five "secret" ingredients!

Lemon Juice
Squeeze half a lemon (6 calories per serving) over just about anything, and you'll get a burst of flavor that's bright and expressive. Here are some ideas:

Toss a bowlful of Bibb or butter head lettuce with lemon juice, a drizzle of olive oil and salt and pepper, and you have a fantastic (not to mention cheaper and healthier) alternative to bottled salad dressing.


Spritz lemon juice over steamed, grilled or sautéed green vegetables of any kind: broccoli, snap peas, fresh spinach, asparagus, green beans, zucchini. For even brighter flavor, grate the rind of half a lemon using a microplane or zester, and add that to the dish. Season with salt and pepper.


Add lemon juice to marinade for chicken; when cooked, it will create a more tender and juicy dish. Squeeze lemon juice over a grilled steak.


Make a compound butter: Combine 1 stick of salted butter (softened at room temperature) with the zest of 1 lemon and 2 Tbsp. of finely minced parsley. Wrap in waxed paper; place in a zip-top bag and store in the freezer. Use this to sauté vegetables or to top grilled steak or fish; a little bit (35 calories per tablespoon) goes a long way—and adds a ton of flavor.


Try preserved lemons: Traditionally a Mediterranean ingredient, lemons that have been preserved in salt punch up a range of dishes. Buy them at a specialty food store, or make your own—it's super easy to do; here's how. Add preserved lemon to marinades, dressings or rubs for grilled or roasted meat.
Garlic
Sure, you know about garlic. But here's an insider technique that really brings out garlic's flavor. Place a large unpeeled clove on a cutting board; place the blade of a chef's knife flat to cover the garlic, and hit it sharply with your palm. This makes it easy to remove the papery skin. Trim off the root end and remove any green sprout inside. Hold the knife at about a 45-degree angle to the cutting board, and firmly draw the blade across the smashed garlic repeatedly, creating a paste. If your recipe calls for salt, then sprinkle some on the garlic as you work; the salt is abrasive and helps mash the garlic. Add this paste to salad dressing, marinade or a sauté pan instead of using chopped garlic.
Continued ›
Article created on: 5/24/2011